Honda City: A Legacy of Excellence and Timeless Appeal
The newest-gen Honda City builds on the success and trust of its predecessors and comes with several refreshes that truly make it a modern proposition blending elegance and sportiness. Here's why it remains an unrivaled icon.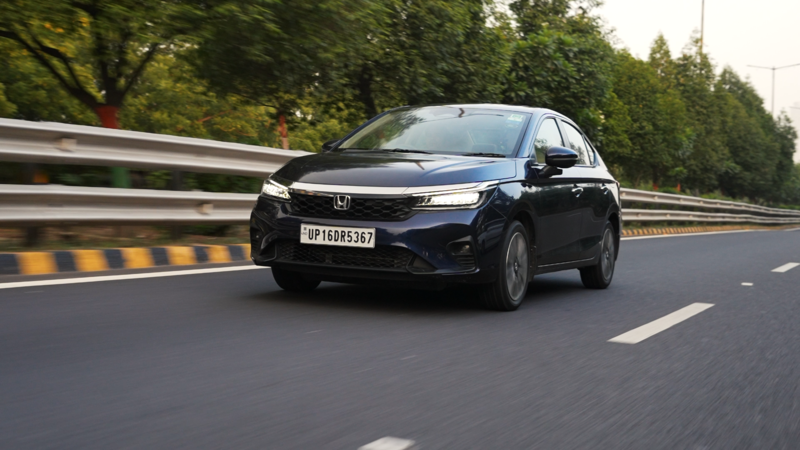 New-gen Honda City builds on the success and trust of its predecessors.
The
Honda City
sedan has been a prominent player in the segment, capturing the hearts of car enthusiasts and solidifying its status as an icon in the automotive world. The City landed on Indian shores in 1998 as an 'OG' in the segment and left an indelible mark in the automotive landscape. It represented
Honda
's commitment to excellence and laid the foundation for the City's enduring legacy, with subsequent generations continuing to uphold the original's reputation for reliability and driving pleasure. Enter 2023, times have changed, but what remains the same is City's reputation for being a reliable and most trusted name - which has stood the test of time through the decades, a feat that no other brand can claim to surpass. The newest-gen City builds on the success and trust of its predecessors and comes with several refreshes that truly make it a modern proposition blending elegance and sportiness. In terms of exterior appearance, one cannot help but admire the Honda City's sleek and contemporary design language. With each generation, Honda introduced refreshing aesthetics, with continuous improvement in pursuit of perfection. From its eye-catching front grille to the sculpted lines that flow seamlessly along its body, the new-gen City exudes an undeniable charm that appeals to a wide range of customers.
The Honda City has now also embraced an innovative paradigm shift by incorporating cutting-edge hybrid technology into its framework. This transformative enhancement signifies the brand's proactive stride toward sustainable mobility solutions. The integration of hybrid technology introduces an intriguing fusion of internal combustion prowess and electric propulsion, aimed at optimizing fuel efficiency. A Luxurious Haven on Wheels:
Step inside and you'll be greeted by a spacious and comfortable cabin that sets new benchmarks in the segment. The generous interior space offers ample legroom and headroom for both front and rear passengers, making long journeys a pleasurable experience. The ergonomically designed seats, crafted with high-quality materials, provide excellent support and enhance overall comfort.

Honda has continuously pushed the boundaries of innovation, and the City is a testament to its commitment to advanced technologies. From the intuitive touchscreen infotainment system that keeps you connected on the go to the array of safety features that provide peace of mind, the City is packed with cutting-edge technology designed to enhance convenience, and safety. Some of the key feature highlights on the new City include LaneWatch Camera, 8-inch Advanced Touchscreen Infotainment display, Wireless Smartphone Connectivity with Android Auto and Apple Carplay, 8-Speaker Premium Surround Sound system, 17.7 cm (7-inch) HD full colour TFT Meter with Driver Information Interface and much more. Honda Sensing:
The Honda City is only car in the segment to offer a wide range of Advanced Driver Assistance Systems (ADAS) features (Honda Sensing) that prioritize safety and enhance the driving experience. These advanced features harness cutting-edge technology to offer enhanced driver support and awareness in diverse driving scenarios.

1. Collision Mitigation Braking System (CMBS): The Honda City's CMBS utilizes radar and camera systems to detect potential frontal collisions. It warns the driver and, if necessary, automatically applies the brakes to mitigate or prevent a collision.

2. Lane Keeping Assist System (LKAS): With the LKAS, the Honda City uses a camera to monitor lane markings on the road. It provides steering assistance to help the driver stay within the detected lane, reducing the risk of unintentional lane departures.

3. Road Departure Mitigation System (RDM): The RDM in the Honda City detects when the vehicle is about to unintentionally leave the road. It alerts the driver and can provide steering and braking assistance to help keep the vehicle on the road.

4. Adaptive Cruise Control (ACC): The ACC system maintains a set distance from the vehicle ahead by using radar sensors. It adjusts the vehicle's speed accordingly, providing convenience and reducing the likelihood of rear-end collisions.

5. Auto High-Beam Headlights (AHB): The AHB feature in the Honda City uses a camera system to detect oncoming vehicles and vehicles ahead. It automatically switches between high and low beams, ensuring optimal visibility without causing glare to other drivers. Honda Sensing in MT/CVT Variants:
The City is equipped with a high-performance 1,498 cc Inline 4 Cylinder i-VTEC DOHC engine paired with VTC technology. This robust powertrain boasts impressive performance figures, delivering 121 PS and a peak torque of 145 Nm. Transmission choices include both manual (MT) and continuously variable (CVT) options, with the added benefit of Honda Sensing which is accessible in both MT and CVT iterations. Reliability That Stands the Test of Time:
When it comes to reliability and durability, Honda has a reputation that precedes them, and the City upholds that legacy. The City's solid engineering and dependable performance have earned it the trust of millions of owners worldwide. It is a car that stands the test of time, offering a hassle-free ownership experience and peace of mind on every journey.

In the ever-evolving world of sedans, the Honda City remains an unrivaled icon. With its stylish design, spacious and comfortable interior, impressive performance, advanced features, and unwavering reliability, the Honda City continues to redefine excellence in the segment. It is a car that not only meets expectations but surpasses them, setting new standards and leaving an indelible mark on the automotive landscape.

(Note: The above feature has been curated in collaboration with Honda Cars India)
End of Article