From Priyanka Chopra Jonas To Kiara Advani, Bollywood Divas Raise Temperature In Black Cut-Out Dresses
Cut-out dresses are making waves in the fashion industry and our Bollywood actresses are jumping into this trend, and undoubtedly, nailing it. Here are five B-town divas who are bringing their A-game to this trend.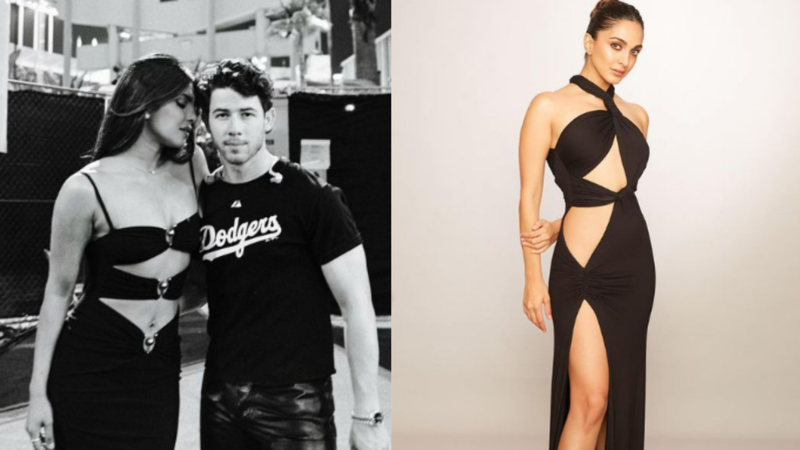 Bollywood actress who nailed cut-off dresses. Pic Credit: Instagram
Although trends come and go in the always-changing world of fashion, some have the potential to leave a lasting impression. The rising cut-out dress trend is one such style that has been sweeping the fashion industry. With its edgy and daring appearance, this bold trend has captured the attention of both designers and fashion enthusiasts.
Cut-out dresses have thoughtfully placed fabric openings that are strategically placed to reveal skin in intriguing and surprising ways. These cut-outs can be found on many different areas of the garment, including the shoulders, back, and even the sides. This trend's ability to create a balance between elegance and sensuality is what makes it so beautiful.
While this trend is spreading like wildfire on a global level, Bollywood, too, has jumped onto the bandwagon and has presented us with some of the most sultry looks on Instagram. So without further ado, here are five such black cut-out dress looks worn by B-town actresses.
1) Sara Ali Khan
Our first actress to grace the list is none other than Sara Ali Khan. Her gorgeous black dress features a sultry bralette followed by a thick white stripe running along the sides that opens into a dangerous thigh-slit. The sheer net adorning the middle part of her body adds to the bold look.
2) Ananya Panday
Oh la la! Slightly raising the temperature here is Ananya who wore this seductive black cut-out dress featuring bold cut-outs exposing her midriff and a thigh-slit. Wearing a pair of strappy heels and sporting those luscious wavy locks, the Dream Girl 2 actress is making her way to capturing a million more hearts.
3) Kiara Advani
There is something so magical about wearing a black cut-out dress that makes people stop and admire you. Wearing a jaw-dropping dress featuring some bold cuts and a flowy hem, Kiara looks like a million bucks as she carries this look with a sleek bun, chiselled cheekbones and some black eyeshadow under the eyes.
4) Janhvi Kapoor
Looking absolutely regal in a black cut-out dress, Janhvi Kapoor radiates an aura of sophistication combined with sensuality while pairing her outfit with statement bangles and an emerald necklace that adds more elegance to her overall look. Her magical eyes, minimal makeup and a bun with ruffled side bangs all add to the charm.
5) Priyanka Chopra
Saved for the very last, this boss lady needs no introduction when it comes to experimenting with various fashion trends. Sporting a sensual black dress cut bound with underwire in three sections adorning her upper body, her midriff and the skirt, the amount of power she radiates even while wearing a simple necklace chain and earrings is simply stunning.
Which actresses' black cut-out dress look fascinated you the most? Let us know @TimesNow!
End of Article