Man Smuggles Food And Drinks Into Theatre In Viral Video, Garners Over 35 Million Views | Watch
A clip posted on Instagram showcased a content creator taking food inside the theatre. It garnered more than 35 million views on Instagram. The video was posted by Alfesh Shaikh. Watch the video below.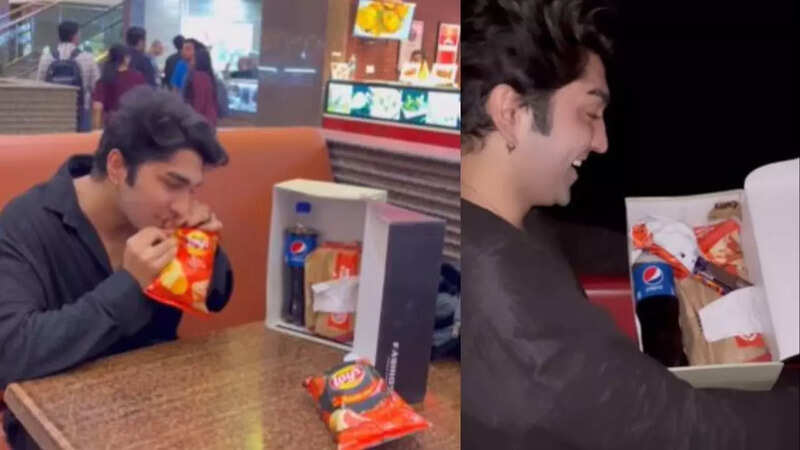 One man sneaked food and drinks into a theatre. Photo: Instagram/Alfesh Shaikh
The experience of watching movies on the big screen is incomplete without munching on chips and popcorn. As a result, most of us buy snacks before entering the theatre despite its high cost. After all, what could one do as outside drinks and food are strictly prohibited inside? Well, one guy smuggled food inside a theatre in a unique manner. A video of the incident was posted on social media.
The clip posted on
Instagram
showed the man sitting in the food court of a mall. The young man packed a few snacks in a box and secured the box with tape. Soon after, he kept the box inside a bag and walked to the entrance of a theatre. In the following scene, the man was seen showing his bags to security at the theatre entrance.
Surprisingly, he passed through the security checks with ease. He then walked into the movie hall with the bags and enjoyed the snacks during the show. The clip was posted by
Alfesh Shaikh
and netizens were thrilled to see the technique.
One stated, "Security guards be watching this reel like." Another person commented, "Hope theatre security guy doesn't see this video." A third person said, "And by doing this you are making these securities more aware which closes doors for us." Swiggy Instamart too commented on the clip. They commented, "Smartest student from section A."
The clip garnered more than 35 million views and about 2 million likes.
Have you ever done such a thing?
End of Article