MotoGP Bharat: When, Where and How To Watch On Mobile For Free
India is all set to witness the highest form of two-wheeler racing with MotoGP Bharat scheduled to be held over in Greater Noida in the coming weekend. We list down when and where to watch the race, how many races will take place, and also about the competition, especially whom to look out for.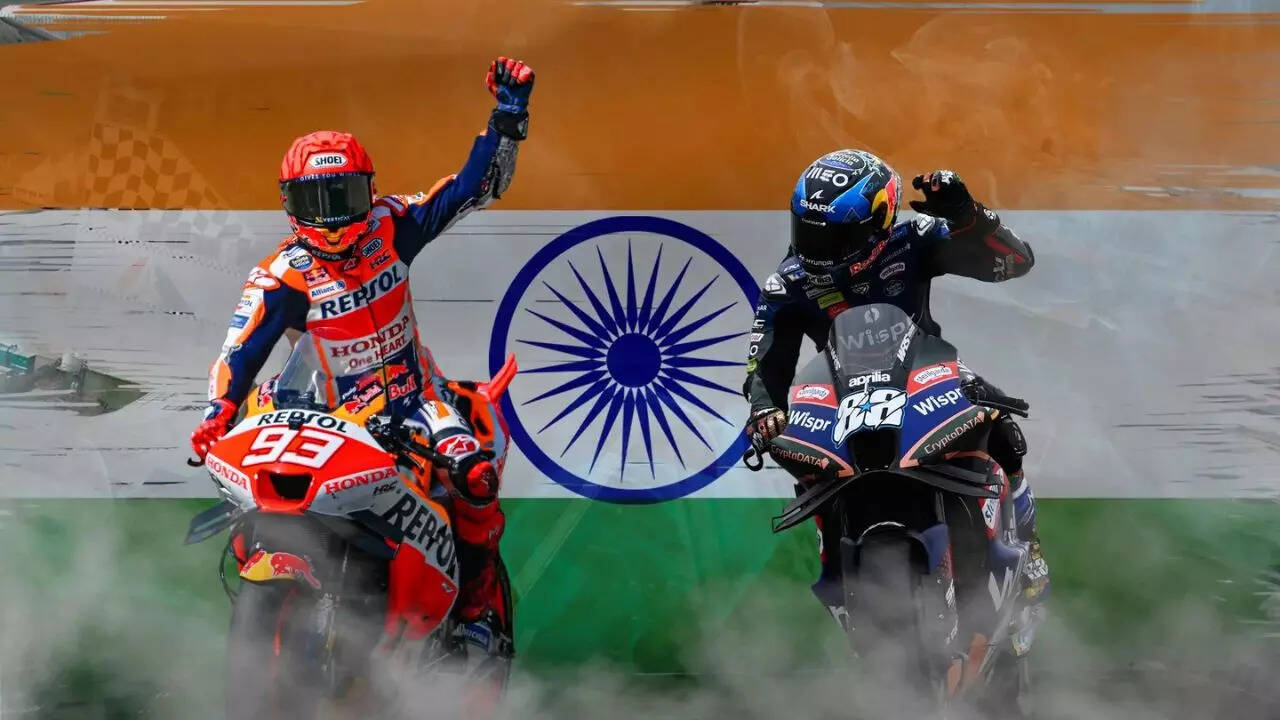 MotoGP Bharat: When, Where and How To Watch On Mobile For Fre. Image Courtesy: MotoGP Official
Photo : BCCL
The MotoGP Bharat will be the 13th race of the 2023 season that will see the group travel directly from Misano (last weekend) to India to race at the Buddh International Circuit. While homologation of the circuit by Dorna Sports and FIM is still pending, which is set to happen on Thursday, the coming weekend is as of yet packed and fully scheduled.
MotoGP, Moto2 and Moto3: What Are The Different Races
The MotoGP weekend sees the race of three classes of bikes, namely, Moto3, Moto2 and MotoGP. While MotoGP is the prime championship, bikes in this class are powered by big, inline-4, 1000cc engines.

Moto2 refers to middle-weight bikes with 765cc engine capacity. All Moto2 bikes are powered by the same inline-3 engine that is also available with the production-spec Triumph Street Triple RS. The entry-level Moto3 bikes are powered by a single-cylinder, 250cc engine that produces around 60bhp.
2023 MotoGP Bharat

: When To Watch?

Starting from Friday, Buddh International Circuit will see practice sessions of Moto3, Moto2, and MotoGP take place in quick succession. The day will start at 9 a.m. with Moto3's practice session, followed by the Moto2 practice session at 11 a.m., and with MotoGP's first 'Free Practice session' scheduled at 11:15 a.m. Events on Friday will end at 4:40 p.m. with the Practice session of MotoGP.
Practice sessions help teams to understand the conditions of the tracks which further helps develop the bike accordingly.
Saturday will again see practice sessions of Moto3, Moto2 and MotoGP. This will be followed by two qualification sessions for all three. However, with MotoGP, spectators will also get to experience the shorter Sprint race which is scheduled to take place from 3:30 pm onwards. The sprint race is a new racing format that debuted with MotoGP this year.
Finally, on Sunday all the preparations (of both qualification and practice sessions) will finally culminate into the final race. At the Buddh International Circuit, the day will start at 11:10 with the warm-up session, followed by a rider fan parade. The first race of the day will start at 12:30 with the Moto3 race, followed by the Moto2 race at 1:45 pm, and finally the MotoGP race at 3:30.
2023 MotoGP Bharat: Whom To Watch
Given that the upcoming MotoGP Bharat is just the 13th race of the session, the field is still wide open with every possibility of surprises. Heading the championship table right now is Ducati's Francesco Bagnaia who has five wins under his name followed by Ducati's second racer Jorge Martin and in third position is Ducati rider Marco Bezzecchi.

An intense battle has been brewing between Jorge Martin and Francesco Bagnania, so expect some good overtakes and intense battles. from the duo this Sunday as well A favorite among Indians, Honda's Marc Marquez is expected to get the loudest cheer in the stadium. This is despite the Spaniard struggling with his performance after a series of injuries and a not-upto-the-mark bike. Then there's the wild card from KTM in the form of Brad Binder who has been more than just impressive this session. So, expect some nice cool overtakes from the South African as well.

On the other hand, you have Aprilia Racing who have witnessed some good results with their latest RS-GP bikes. Their rider duo, which includes Aleix Espagaro and Maverick Vinales might throw in a surprise quali finish with a top 5 start in the main race as well Aprilia Racing is also for the first time fielding two teams. Aside from the main team, the brand now also has the satellite team Team RNF that is fielding riders Miguel Oliveira and Raul Fernandez.
2023 MotoGP Bharat: Where To Watch For Free And Stream For Free?
If you're planning to go to BIC to witness the race then you can book tickets on BookMyShow. Ticket prices range from Rs 800 to Rs 1.8 lakh. However, if you're planning to watch the race from the comfort of your home, you can do so by tuning into Sports18, or you can live stream the race for free on your Jio Cinema app.
End of Article