Caught On Camera: Customer Punches Croma Employees in Delhi's Kamla Nagar Over iPhone 15 Pro
A violent clash occurred at a Croma store in Delhi when customers attacked employees over the refusal to sell an iPhone 15 Pro, resulting in legal action and widespread outrage.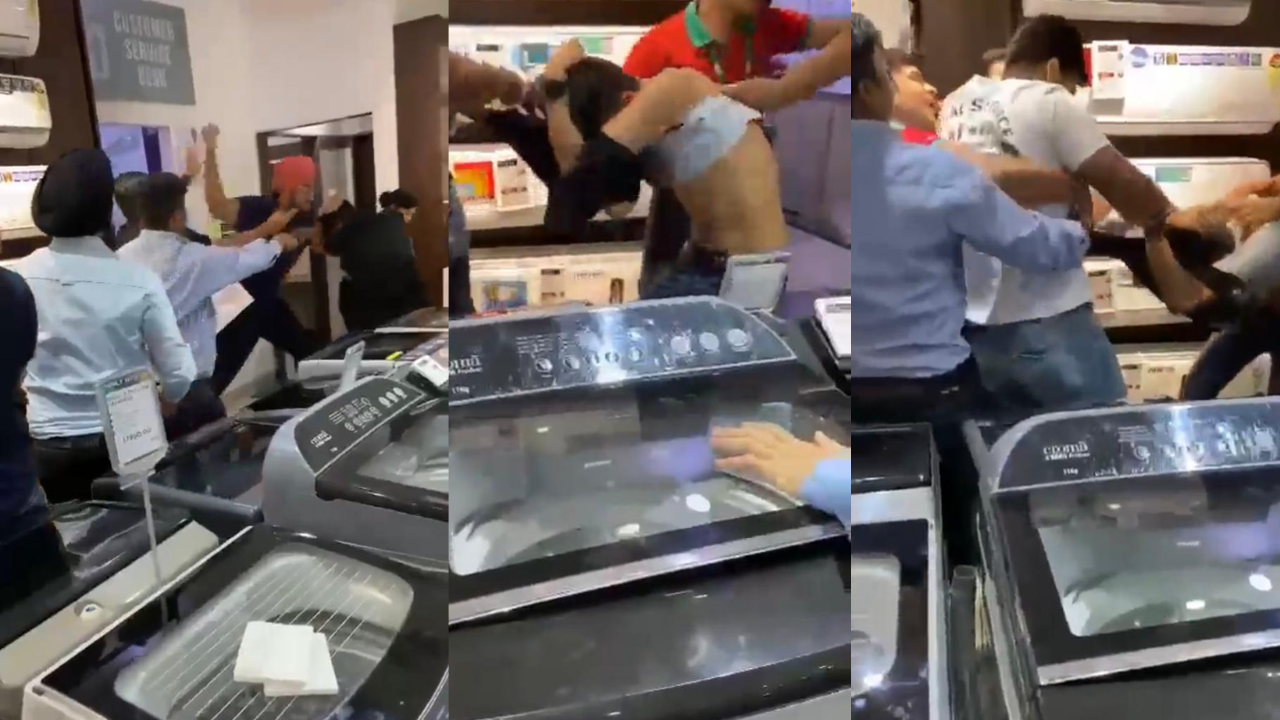 Customers Attack Employees After iPhone 15 Pro Delivery
Photo : Times Now
Delhi: A video footage has surfaced on social media, capturing a violent fight between customers and employees at a Croma store in Delhi's Kamla Nagar. The incident, which took place yesterday, has drawn attention due to the release of Apple's highly anticipated iPhone 15 series in India.
Excitement was running high among iPhone enthusiasts as the new series hit the shelves on Friday, September 22. Eager customers had gathered outside various stores across the country, hoping to get their hands on the latest iPhone model. However, trouble unfolded at the Kamla Nagar Croma store when employees refused to sell the iPhone 15 Pro to a particular customer.
The video reveals a heated exchange of punches and verbal insults between two customers and several store employees. Witnesses reported that tensions flared when the customer's request for the iPhone 15 Pro was denied, leading to a furious outburst and physical altercation.
During the argument, the two customers punching at the employees, tearing the shirt of one poor employee. The situation escalated when the turban of a Sikh man involved in the fight became dislodged in the midst of the incident.
According to the police report, a PCR call was received on September 22, 2023, regarding a quarrel at the Croma Showroom in Roop Nagar Bungalow Road. Upon reaching the scene, the staff found two individuals named Jaskirat Singh and Mandeep Singh from Nirankari Colony. They had booked a mobile phone at the Croma Center, which was supposed to be delivered on September 22. However, the shopkeeper failed to deliver the phone on the promised date.
In response to the delay, the customers engaged in a physical altercation, assaulting the Croma staff. The Delhi Police have taken preventive action against the customers under sections 107/151 CrPc, and both individuals have been arrested.
Additionally, The demand for the iPhone 15 Pro Max has been particularly high, with customers lining up outside stores to be the first to purchase the latest model. Analyst Ming-Chi Kuo predicts that the iPhone 15 series will reach a shipment of 80 million units by the end of 2023, with production concerns due to high demand for the iPhone 15 Pro Max. Apple has also introduced carbon-neutral models in their new Apple Watch Series 9 and Ultra 2.
End of Article