Leading Hospitality, Finance Companies Launch Job Assured Learning Programmes at TimesPro Career Carnival in Mathura
TimesPro has unveiled its flagship Early Career employability-linked skilling initiative, the 'TimesPro Career Carnival' in Mathura. Top hotel brands Radisson, Marriott to recruit youth through Certificate Programme in Hospitality and Hotel Management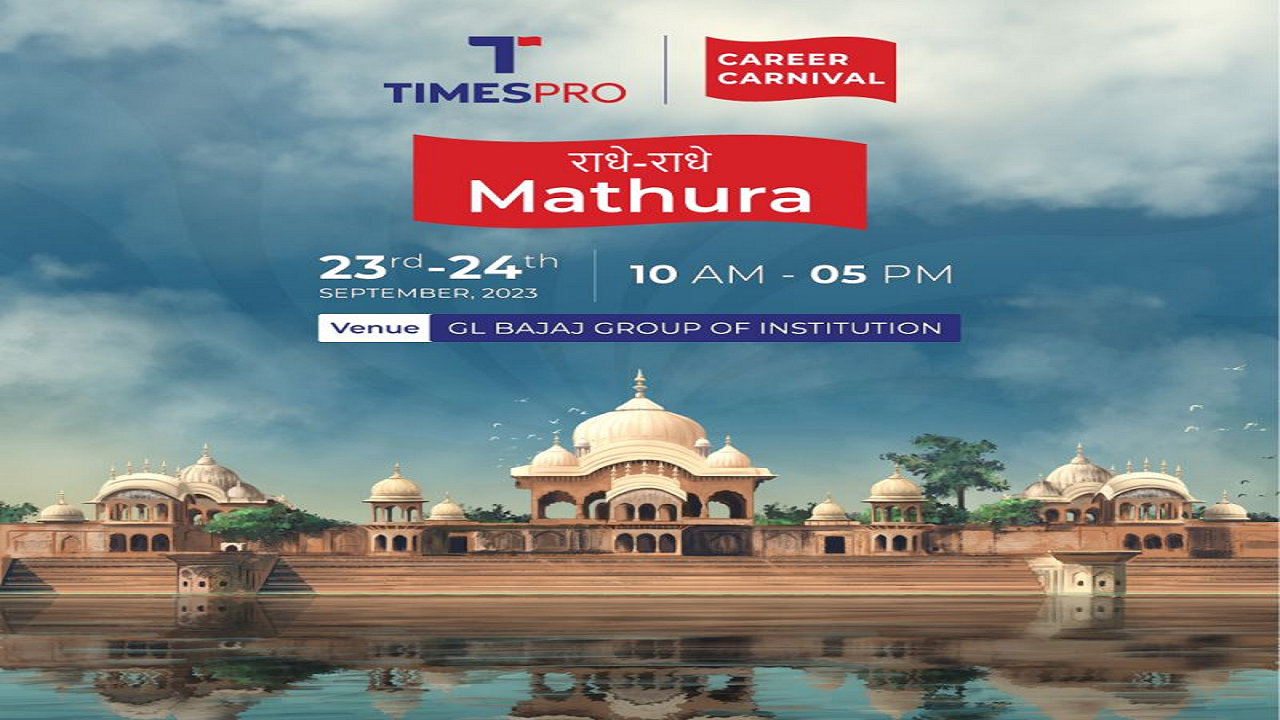 Leading Hospitality, Finance Companies Launch Job Assured Learning Programmes at TimesPro Career Carnival in Mathura
Mathura: TimesPro, a leading Higher EdTech platform has unveiled its flagship Early Career employability-linked skilling initiative, the '
TimesPro Career Carnival
' in the vibrant city of Mathura. This transformative initiative is designed to equip young talents with the essential skills and knowledge required to kickstart a promising career journey. Industry leaders including Radisson, Marriott, OM Logistics, and YES Bank, have collaborated with TimesPro to provide cutting-edge learning programmes, enabling learners to make impactful early strides in their respective industries.
The '
TimesPro Career Carnival
' to be hosted at the GL Bajaj Group of Institutions, Mathura on September 23 & 24 is set to feature prominent industry leaders, each offering specialised programmes to empower aspiring professionals. YES Bank will present its Assured Job programme 'TimesPro Banking Programme - Sales & Service Management' providing a direct pathway to lucrative career opportunities.
Renowned hospitality giants, Radisson Hotel Group and Marriott have collaborated with TimesPro for its upskilling programme, Certificate Programme in Hospitality and Hotel Management where learners will be offered a plethora of employability opportunities to be a part of the expanding industry. OM Logistics will reinforce its workforce with the Certificate in Logistics & Supply Chain Management, aimed at enhancing industry-specific skills.
These initiatives offer a wide array of job-oriented programmes in key sectors, creating a gateway for under-skilled and unemployable youth to find their purpose, become job-ready, and begin their careers with confidence.
The carnival will also provide an experiential setting where learners can explore the diverse aspects of these dynamic courses. Moreover, learners who embark on this journey with TimesPro will be offered interview opportunities with TimesPro's esteemed hiring partners. Upon successful completion of the programmes and clearance of the interview process, which can ensure learners of job placement.
Eligibility: Minimum 12th Pass Out, maximum age limit is 28 years.
Post Mathura, the
TimesPro Career Carnival
will head to Siliguri, Alwar, Ujjain, Palwal and Bhagalpur over the next few months.
Speaking at the launch of TimesPro Career Carnival, Anish Srikrishna, CEO, of TimesPro, said, "TimesPro Career Carnival reflects our unwavering commitment to providing accessible and transformative education. Our goal is to empower young individuals in this region by equipping them with the skills, knowledge, and connections necessary to excel in today's competitive job market. We believe that every young person deserves the opportunity to pursue their dream career, and this event is a step towards making that a reality. Our initiative marks a significant milestone in our mission to bridge the skills gap in India. Through our wide range of courses, we aim to inspire confidence and enable every young learner to pursue their dream career."
The other employability-linked programmes to be offered at the '
TimesPro Career Carnival
' in Mathura include Banking Pro (BFSI), Post Graduate Programme in e-Commerce & Supply Chain Management (e-Commerce), Certificate for Warehouse Executive (Logistics & Supply Chain Management) and Full Stack Web Development Course, Post Graduate Advanced Certificate in Data Science, Post Graduate Certificate in Data Science and Machine Learning Applications (Technology & Analytics).
Among the other prominent hiring partners who have collaborated with TimesPro include SBI Securities, ECOM Express, HDFC Bank, AU Small Finance Bank, ICICI Bank, Tata AIA, AAJ, Angel One, DTDC, Axis Bank, DBS, among others.
The Career Carnival is open to all young individuals in Mathura and nearby areas who are seeking to kickstart their careers or enhance their professional skills. Admission is free, and attendees are encouraged to register in advance on Career Carnival (timespro.com). About TimesPro:
TimesPro, established in 2013, is a leading Higher EdTech platform dedicated to empowering the career growth of aspiring learners by equipping them with skills to rise in a competitive world. TimesPro's H. EdTech programmes are created to meet the rapidly changing industry requirements and have been blended with technology to make them accessible & affordable.
TimesPro offers a variety of created and curated learning programmes across a range of categories, industries, and age groups. They include employment-oriented early career programmes across BFSI, e-commerce, and technology sectors; executive education for working professionals in collaboration with premier educational institutions like IIMs and IITs; and organisational learning and development interventions at the corporate level.
TimesPro also collaborates with India's leading organisations across varied sectors to provide upskilling and reskilling solutions to boost employability and create a robust workforce. TimesPro is a Higher EdTech initiative by the Times of India Group.
End of Article