When Hi Nanna Actor Nani Met Tiger 3 Star Salman Khan During India-Australia World Cup 2023 Finals
At the Indian-Australia World Cup finals, Hi Nanna actor, the film's protagonist Nani met Bollywood's Salman Khan. Here are the details of their meet.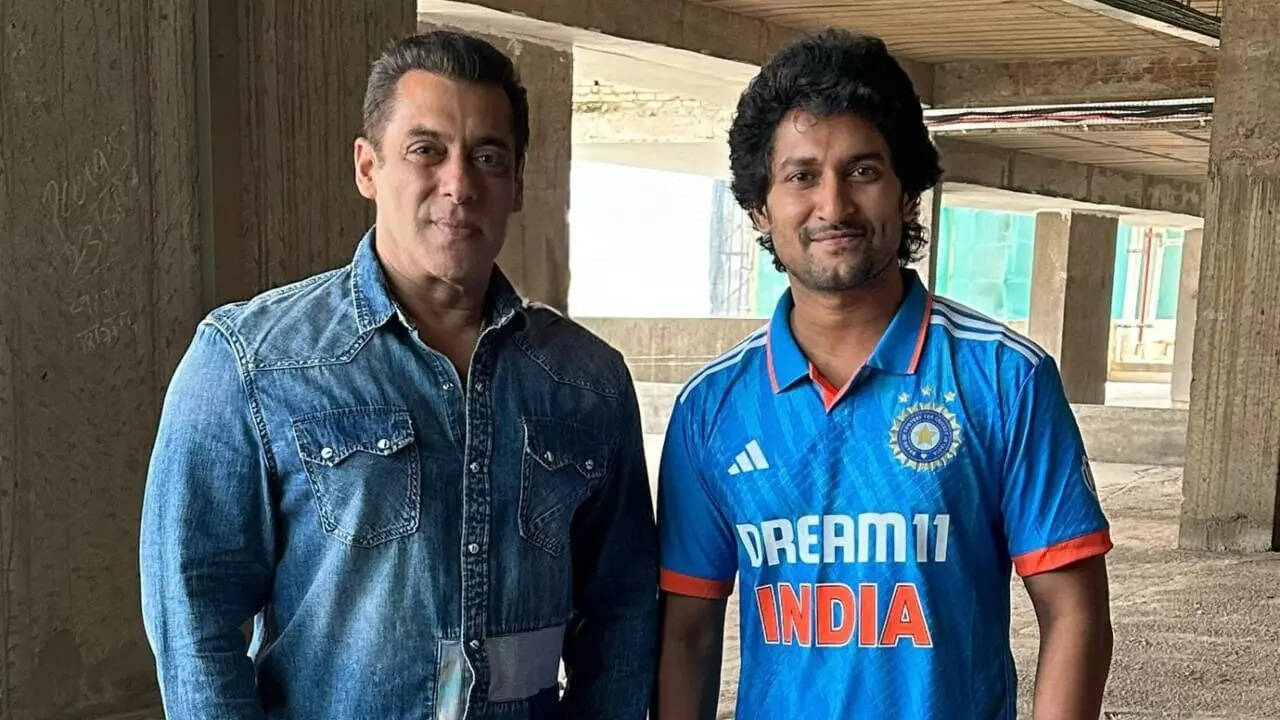 When Hi Nanna Actor Nani Met Tiger 3 Stars Salman Khan During The Indian-Australia World Cup Finals
At the Indian-Australia World Cup finals yesterday, Tollywood actor, natural star Nani met Bollywood star Salman Khan. Nani was promoting his upcoming film Hi Nanna, whereas Salman Khan was promoting his recently released film Tiger 3.
While Nani featured on the Star Sports Telugu channel during the live match showdown of India Vs Australia at the cricket World Cup final. He met Bollywood icon Salman Khan who appeared on Star Sports Hindi channel. Fans were excited to see the two in one frame.
Nani Met Salman Khan
Vyra 3ntertainments, the official production house of Hi Nanna, posted "A blockbuster encounter off the field! @NameIsNani and @BeingSalmanKhan crossed paths while promoting their respective films at the #CWC23 finals! #INDvAUS #HiNanna #Tiger3".
Nani Promotes Hi Nanna
In a recent poster released by the makers of Hi Nanna, showcased him in a traditional white ensemble. In a Twitter post promoting the film Nani adopts the avatar of a politician. The poster carries the quote, "Hi to everyone - Love-filled ballot box office from December 7th."
Despite the politician-themed poster, it's clarified that Nani is not a part of any political party, but he appeared in the poster as a part of his promotional strategy for his upcoming release, Hi Nanna.
Directed by Shouyuv's Hi Nanna is slated to hit screens in December. The film also features Mrunal Thakur in the lead role. The romantic drama will be released in Telugu, Tamil, Kannada, Malayalam and Hindi.
Speaking about the movie to Indian Today, Nani said, "The film is not about just a father-daughter relationship. It is an emotional human drama. It's primarily a love story and love stories have been the biggest part of our Indian cinema at one point in time. But now you see a lot of action stories and larger-than-life event films and I think we're missing out on watching love stories on big screen."
End of Article