DYK Neerja's Rajveer Singh Took Inspiration From Hrithik Roshan's Deva Shree Ganesha Before Performing? WATCH
Actor Rajveer Singh will be seen dancing to a song by his favorite Bollywood star, Hrithik Roshan, in the upcoming Ganesh Chaturthi episode for Neerja... Ek Nayi Pehchaan.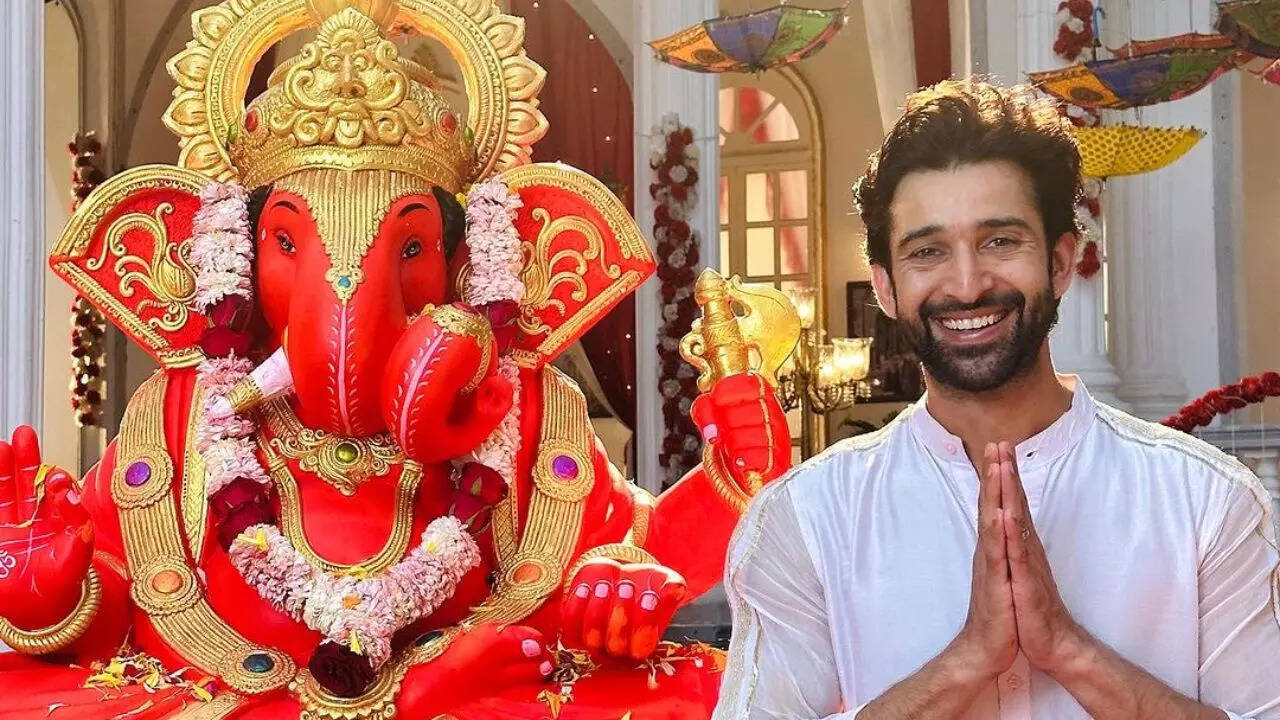 Rajveer Singh with Ganpati Bappa (Credit: Instagram)
Actor Rajveer Singh will be seen shaking his legs on the song of his favourite Bollywood star Hrithik Roshan, in the upcoming Ganesh Chaturthi track of Neerja… Ek Nayi Pehchaan.
In the vibrant world of Neerja, the anticipation for Ganesh Chaturthi is palpable as the Bagchi family gears up to welcome the beloved Lord Ganesha into their home.
But what adds an extra layer of excitement to this joyous occasion is the infectious enthusiasm of Rajveer a.k.a Abeer, who will be dancing to Hrithik's song
In a heartwarming twist of fate within the show's gripping storyline, Neerja, portrayed by Aastha Sharma, has succeeded in rekindling Abeer's memory.
However, a cruel twist of fate has erased the love they once shared from Abeer's heart, leaving Neerja to grapple with the painful loss.
In the current track, Neerja is struggling to secure a job with Didun's threats looming over her.
Amid all the turmoil, the festival of Ganesh Chaturthi breathes new life into the Bagchi household, where Abeer, played by Rajveer, steals the spotlight with his tribute to Hrithik, emulating not only his dance moves but also the spirit of the iconic Vijay Deenanath Chauhan.
Talking about borrowing inspiration from Hrithik, Rajveer said: "It feels amazing to be celebrating Ganesh Chaturthi in Neerja. I'm so thrilled that through this sequence, I got to pay tribute to the one and only Hrithik Roshan. It is an honour for me to be welcoming Lord Ganesha with a special aagman dance."
"No one can match the moves of Hrithik, but it is a privilege to draw inspiration from his work. I pray that Bappa blesses us all, and I thank him for the love I've received so far for the show. My dance is something to watch out for, and I promise it will be a visual treat for all our viewers," he added.
In the recent storyline, as we witness the celebration of Ganesh Utsav within the Bagchi Family, a pivotal moment occurs when the show's antagonist, Didun (Kamya Punjabi), discovers that Abeer has regained his lost memories.
Consequently, Didun makes the fateful decision to return Neerja to Sonagachi and compel her to work there. At this crucial juncture, Neerja learns the shocking truth that her mother, Protima, has been hiding her life as a sex worker all along.
Neerja... Ek Nayi Pehchaan airs on Colors.
End of Article