What is Oil Pulling? An Ayurvedic Route to Dental Wellness and Beyond
Explore the ancient Ayurvedic practice of oil pulling, a straightforward yet impactful ritual aimed at promoting dental health and overall wellness. Discover how swishing oil in your mouth can lead to a plethora of health benefits including a brighter smile, healthier gums, and even a detoxified body. Learn the step-by-step method to perform oil pulling and embrace a natural approach to elevate your health regimen.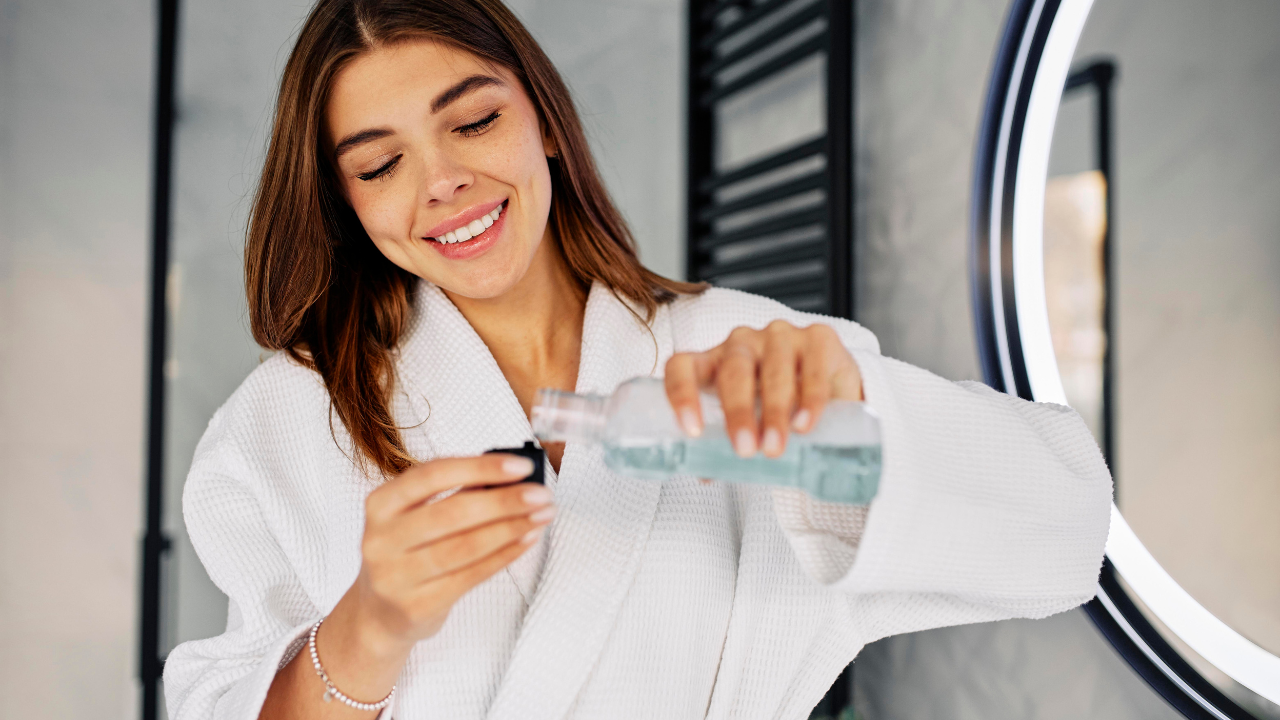 What is Oil Pulling? An Ayurvedic Route to Dental Wellness and Beyond (Credit - Freepik)
Oil pulling is an age-old remedy rooted in Ayurvedic medicine that uses natural substances to clean and detoxify teeth and gums. It boasts a plethora of oral and systemic benefits. The practice involves swishing oil in your mouth to remove bacteria and promote oral hygiene. It is believed to be a traditional Indian remedy to strengthen teeth, gums, and jaw while preventing decay.
The Technique of Oil Pulling
- The procedure is quite simple. Generally, practitioners use sesame, sunflower, or coconut oil for this practice. Here's how you do it:
- Choose Your Oil: Traditionally, sesame oil is used for oil pulling, but sunflower and coconut oil can also be effective. Coconut oil, with its pleasant taste and added antimicrobial properties due to its lauric acid content, is a popular choice.
- Measure the Oil: Measure out about one tablespoon of oil.
- Swish It Around: In the morning, before you eat or drink anything, pour the oil into your mouth and swish it around for about 20 minutes. It's important not to swallow the oil.
- Spit It Out: After swishing, spit the oil into a trashcan. Avoid spitting it into the sink as it could cause a blockage.
- Rinse Well: Rinse out your mouth with warm water to remove any remaining oil.
- Brush Your Teeth: Proceed to brush your teeth as normal.
Benefits of Oil Pulling
Oral Health
- Fights Bad Breath: Oil pulling is considerably effective against halitosis, or chronic bad breath.
- Prevents Cavities and Tooth Decay: By removing oral bacteria, oil pulling aids in the prevention of cavities and tooth decay.
- Promotes Oral Hygiene: The swishing action helps in cleaning the oral cavity and promoting oral hygiene
- Whitens Teeth: Regular oil pulling can lead to noticeably whiter teeth
- Promotes Healthy Gums: It helps in reducing gum inflammation caused by gingivitis.
Systemic Benefits
- Detoxifies the Body: Through the removal of harmful bacteria, oil pulling supports the body's detoxification process;
- Boosts Immune System: The removal of toxic substances from the body can also help in boosting the immune system.
- Holistic Health: It promotes holistic health by creating a balance in the body's constitution and improving digestion.
Precautions and Considerations
While oil pulling is a safe practice, a few precautions should be taken:
- Always spit out the oil in the trash to prevent blockages in your plumbing.
- Make sure to not swallow any of the oil as it's filled with bacteria and toxins.
- If you have any dental or medical conditions, it's a good idea to consult with a healthcare provider before attempting oil pulling, especially if you are pregnant, nursing, or have any chronic health conditions.
Oil pulling is a cost-effective and simple practice that can promote oral health. Its benefits extend beyond just a clean mouth, potentially providing a holistic approach to your well-being. Incorporating oil pulling into your morning routine can be a great way to jump-start your day on a healthy note. So, why not give this ancient Ayurvedic practice a try and experience the benefits firsthand?
End of Article