Crash Landing And Cricket: PM Modi Hugging Mohammed Shami - A Chandrayaan-2 Parallel
Prime Minister Narendra Modi hugging Mohammed Shami after India's World Cup final loss on Sunday harked back to the moment when the PM had hugged ISRO chairman K Sivan after the Chandrayaan-2 mission failed. Three years later, India became the first nation in the world to land on the South Pole of the Moon. Shami, sharing his picture with the PM on Monday, emphatically wrote: "We will bounce back".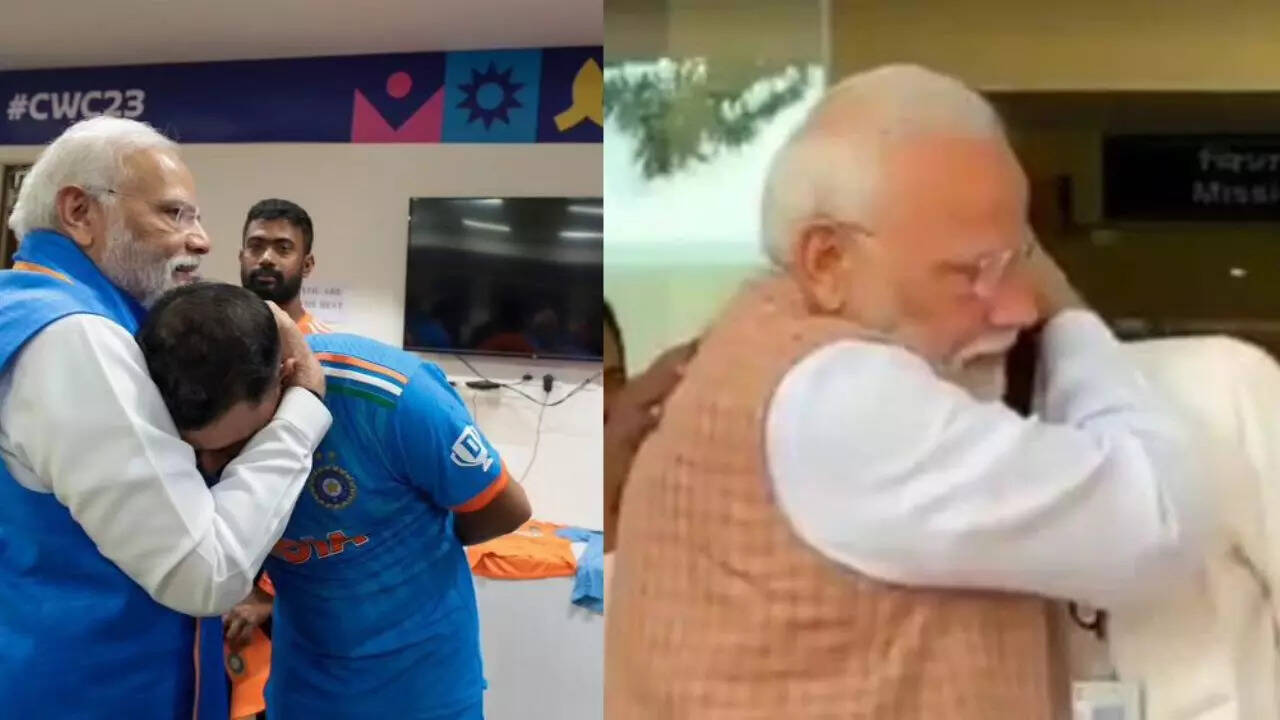 Prime Minister Narendra Modi hugging Mohammed Shami (left) and the PM hugging then-ISRO chair K Sivan (right)
Photo : Twitter
New Delhi: The year was 2020. The month, September. And over a billion Indians had set their eyes on Moon glory. But Chandrayaan-2, India's second Moon mission, crashed, as the Vikram Lander lost communication with the ground just 2.1 kilometers above the Moon. It would take three years, but India would soon become the first nation in the world to land on the south pole of the Moon.
After Chandrayaan-2 crashed, a video went viral. The video showed Prime Minister
Narendra Modi hug a dejected K Sivan
, the then chairman of India's premier space agency, ISRO. A tearful Sivan found much-needed consolation after the project failed to realise its potential. Soon after, Sivan had said, "When I was emotional, the honourable Prime Minister hugged me. He understood what really happened in my mind. He showed leadership. The hug taught me many lessons."
On Sunday, as hopes of 140 crore Indians were dashed as the Indian Cricket Team, after a solid World Cup campaign, lost the finals to Australia, Prime Minister Modi, who was attending the game at the Narendra Modi Stadium in Ahmedabad, reached out to the dejected team.
In the Indian team's dressing room, the Prime Minister was seen hugging and consoling the Indian cricketers. Right after the match ended with the Australians sealing victory, the Prime Minister congratulated the Australian team. His message to the Indian team was: "Your talent and determination through the World Cup was noteworthy. You've played with great spirit and brought immense pride to the nation. We stand with you today and always."
And stand he did. On Monday, India's star pacer Mohammed Shami, posted a picture of the Prime Minister hugging and consoling him. "Unfortunately yesterday was not our day. I would like to thank all Indians for supporting our team and me throughout the tournament. Thankful to PM Narendra Modi for specially coming to the dressing room and raising our spirits. We will bounce back!"
If Chandrayaan-3's success is any indicator, the Indian Cricket Team's bouncing back from the World Cup dejection, is perhaps only a matter of time.
End of Article