'Mazboot' Government Ensures Big Decisions: PM Modi On Women Quota Bill Passage
The PM was showered with flower petals as women party workers raised slogans of "Modi hai to mumkin hai", "Bharat Mata Ki Jai". The Women's Reservation Bill, which cleared its final legislative hurdle at the Rajya Sabha on Thursday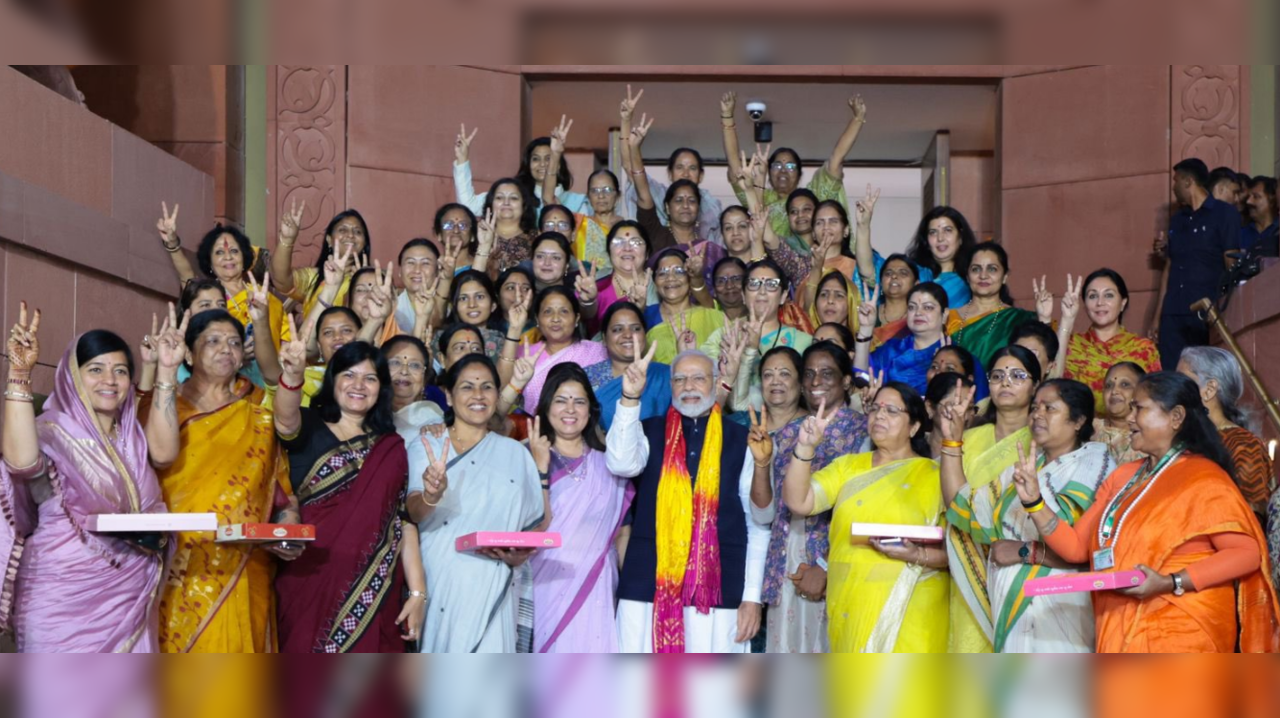 PM Modi poses with women MPs
New Delhi: Prime Minister Narendra Modi received a thunderous welcome at the Bharatiya Janata Party (BJP) headquarters after the passage of Women's Reservation Bill. The PM was showered with flower petals as women party workers raised slogans of "Modi hai to mumkin hai", "Bharat Mata Ki Jai".
While addressing the party worker, PM Modi said, "The passing of this bill in both houses of the Parliament shows how a country with a majority government can work. We never let anyone's political self-interests obstruct women's reservation."
"Mazboot Government Ensures Big Decisions," said PM Modi.
He added, "There were many obstacles in the way of this Women's Reservation Bill. But When intentions are pure and there is transparency in attempts, then we witness results overcoming all obstacles. It is a record in itself that this bill got so much support in Parliament. I thank all political parties and MPs for it."
Celebrations began outside party headquarters today as women party workers and other leaders gathered to celebrate the passage of the Bill. Loud cheers, dance, dhol and music played as women danced to mark the big day.
PM Narendra Modi said, "Today, I congratulate all women of the country. Yesterday and the day before, we witnessed the making of a new history. It is our fortune that crores of people gave us the opportunity to create that history."
Union Women and Child Development Minister Smriti Irani also arrived at the BJP HQ and said, "Today is like a festival in the whole country. We all know that after the independence of the country, many women who contributed to the freedom of the country also appealed that reservation should be given to women. From then till now it had been a dream for women. I am grateful to the 'Pradhansevak' of the country that he promised us that the new Parliament would be an eyewitness to history. He ended years of struggle in 72 hours by passing this bill."
Women's Reservation Bill Clears Parliament
The Women's Reservation Bill, which cleared its final legislative hurdle at the Rajya Sabha on Thursday, guarantees 33 per cent reservation for women in the Lok Sabha as well as the state legislative assemblies. A day after it was cleared in the Lok Sabha, the Upper House on Thursday passed the women's reservation bill, aptly titled Nari Shakti Vandan Adhiniyam, unanimously with 214 members voting in support and none against.
The bill will be forwarded to the President of India, Droupadi Murmu, for her assent, after which it will become law. On Wednesday, the landmark legislation, pending for 27 years, received overwhelming support during the ongoing special session of Parliament, garnering 454 votes in its favour.
End of Article