Who Is Akarshana Sathish? The Girl PM Modi Spoke About In Mann Ki Baat
Akarshana Satish, a Class 7 student from Hyderabad Public School, initiated "Empowering Minds through Libraries." She established seven libraries, inspiring young minds and gaining recognition from PM Modi.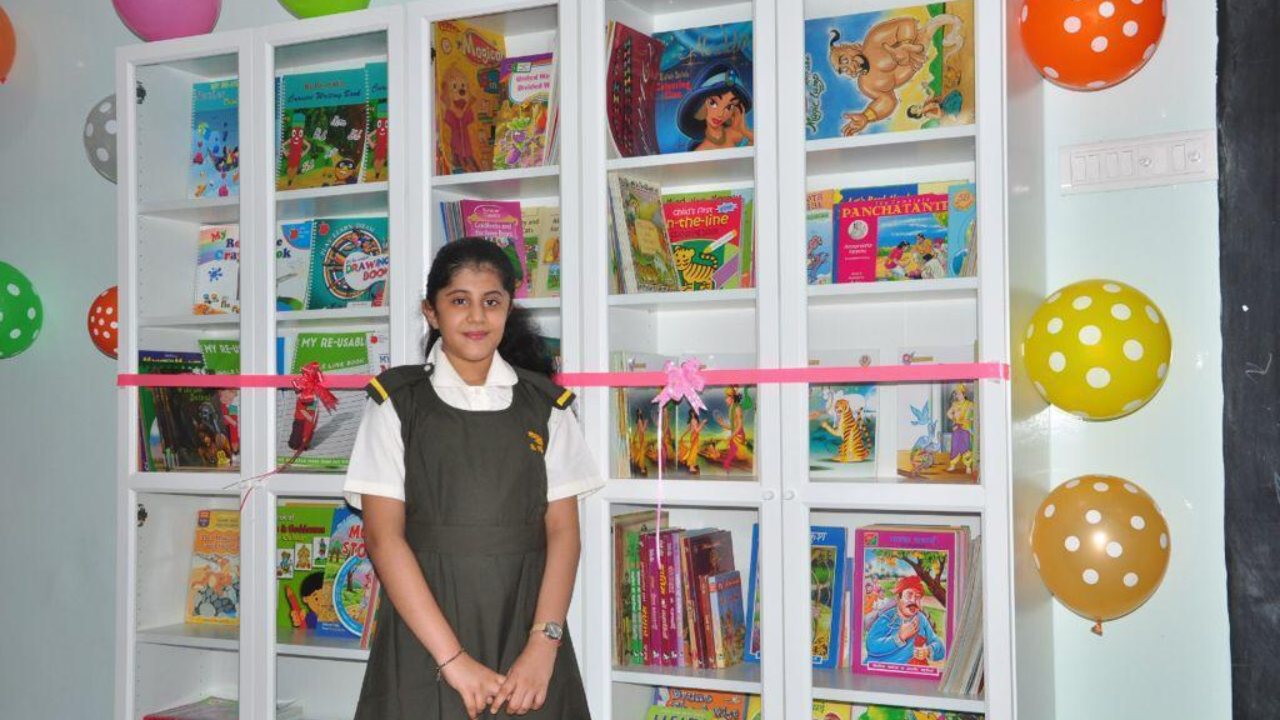 Akarshna is eagerly waiting to meet Prime Minister Modi in person.
Photo : Twitter
A class 7 student from Hyderabad Public School in Begumpet, aspiring to become a Space Scientist, recieved recognition from Prime Minister Narendra Modi and Former Vice President of India Shri Venkaih Naidu. PM Modi spoke about her in Mann Ki Baat. But who is she? And What is her story?
Akarshana Satish, a girl, is the reason for hundreds of students' smiles. Her story began in 2021 when she visited the MNJ Cancer Children's Hospital.
Akarshana told India Today, "When my parents and I visited the MNJ cancer children to provide food, the children undergoing cancer treatment met me daily and asked me to bring them colouring and drawing sheets because there was a complete lockdown due to Covid."
Empowering Minds Through Libraries -
Akarshana Sathish
The children's demand for books continued to grow, compelling Akarshana to take action. Initially, she bought a few books, but the hunger for reading material persisted. It was at this juncture that she rallied her school and apartment community, appealing to them to contribute their well-maintained old books.
Thus, the seeds of her ambitious project, "Empowering Minds through Libraries," were sown. Akarshana's vision was clear: she aimed to establish ten libraries by December 2023. With unwavering determination and the support of her community, she embarked on a mission to collect books from her neighbours, classmates, and relatives. Her efforts bore fruit as she managed to amass an impressive collection of over 5,800 used books.
Akarshana's remarkable journey unfolded with the establishment of seven libraries. The first one at the MNJ Cancer Children's Hospital, housed 1,036 books. Subsequently, libraries sprang up at the Sanath Nagar Police Station with 825 books, Gayathri Nagar Association in Borabanda with 250 books, Juvenile and Observation Home for Girls in Hyderabad with 625 books, Coimbatore City Police Street libraries with 200 books, and the Chennai Boys Club in the Nolambur Police Station with 1,200 books.
Her most recent library, the seventh, containing 610 books, was set up at Govt High School in Old Sanath Nagar Area, Hyderabad. It was inaugurated by Minister Talasani Srinivas Yadav.
Akarshana expressed her hope that this new library would inspire students to read more and expand their knowledge.
She shared how girls of her age were thrilled to receive books encompassing various subjects like physics, biology, chemistry, and dictionaries, which greatly aided them in their daily schoolwork. Akarshana encouraged them to pass on their used books once they had gleaned knowledge from them, ensuring that the cycle of knowledge sharing persisted.
"I want to carry on this legacy, and I am confident that these books will encourage people and children to read more frequently, increasing their knowledge and beliefs."
"This is something that both adults and children who use her library will find useful," the Class 7 student says. In her quest to establish these libraries, Akarshana found an unshakeable foundation of support in her neighbours, friends, and family members, who not only praised her efforts but also fueled her determination to expand her noble initiative.
Notably, in 2021, Prime Minister Narendra Modi recognized Akarshana's remarkable work, extending a letter of appreciation. The Prime Minister not only applauded her current contributions but also urged her to continue making a positive impact on society while forging ahead in life with unwavering optimism and a commitment to success.
Akarshana's journey is far from over. She has submitted information about her seven libraries to the NAMO team and eagerly awaits confirmation from the Prime Minister's Office (PMO) for the opportunity to meet Prime Minister Modi in person and discuss her inspiring initiative, "Empowering Minds through Libraries."
End of Article