5 Magnificent Jewellery Pieces Owned By Indian Royal Families
From elaborate necklaces to beautiful tiaras, Indian royal families are the proud owners of some of the most magnificent jewels in the world, which are not only priceless but also rich in tradition. Here are 5 such amazing jewels that Indian royalty has long cherished.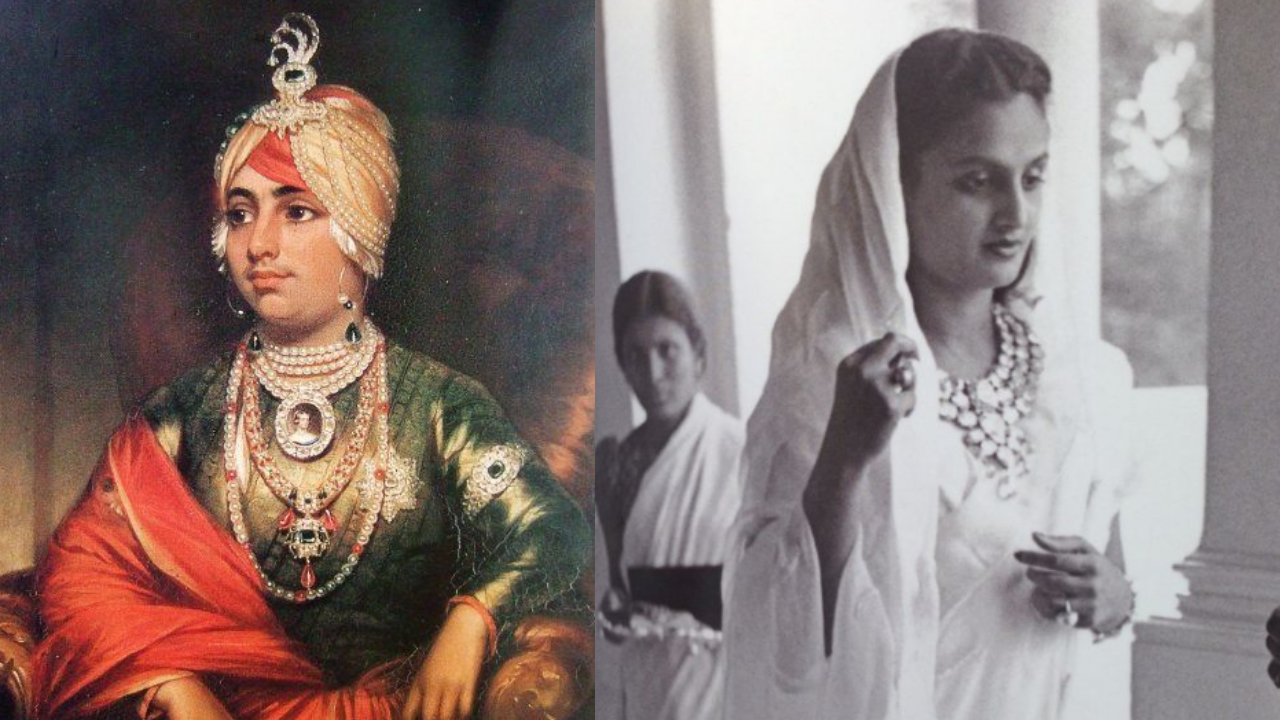 8 magnificent jewellery owned by Indian royal families. Pic Credit:Pinterest
India's royal families have always been associated with grandeur and luxury, and the country's ancient and rich past is embellished with opulence. Indian royal families own some of the most exquisite jewellery in the world, from ornate necklaces to breathtaking tiaras, that are not only priceless but also rich in tradition and history. Here are eight such rare jewellery pieces that have long been cherished by Indian royalty and handed down through the years.
1) The Patiala Choker The Patiala royal family treasures the fascinating Patiala Ruby Choker. This magnificent item exudes timeless beauty with its stunning combination of rubies, diamonds, and pearls. Its exquisite craftsmanship is a monument to the Patiala Maharajas' continuing regal tradition and represents the splendour and legacy of the family.
2) The Diamond Sarpech Maharaja Duleep Singh of Lahore's Diamond Sarpech is a magnificent piece of royal jewellery. This eye-catching turban ornament, also known as a headpiece ornament, is embellished with a glittering selection of diamonds and precious stones. Its elaborate design and lavish application of precious stones capture the magnificence of the Sikh Empire. This exquisite sculpture is a reminder of the Lahore Maharaja's former splendour and the region's rich cultural heritage.
3) Patiala Necklace The Patiala Necklace, a renowned masterwork that oozes splendour and grandeur, belonged to Maharaja Bhupinder Singh. The famous De Beers diamond is the focal point of this magnificent jewel, which was made by Cartier in the 1920s. It serves as a timeless remembrance of India's royal past because of its extravagant design and enormous carat weight, which serve as symbols of the Patiala Maharaja's immense wealth and lavish tastes.
4) Star of the South Diamond necklace The Star of the South diamond necklace worn by Maharani Sita Devi of Baroda is a stunning item of royal jewellery. It is an astounding show of beauty and grandeur, including a breathtaking 128-carat diamond as its focal point and small diamonds all around. The Maharani's perfect taste and sophistication have been symbolised by this magnificent necklace, which also recalls an earlier time when Indian royalty cherished fine gemstones.
5) Maharaja of Kapurthala's Diamond Crown The Diamond Crown of the Maharaja of Kapurthala is a magnificent royal work of art that captures the magnificence and extravagance of Indian royalty. Reflecting the Maharaja's eminent rank, this intricately crafted crown is embellished with a variety of magnificent diamonds and gemstones. It stands as a tribute to the enduring fascination of Indian princely realms and was meticulously and opulently made in order to represent the regal heritage of Kapurthala.
Which jewellery piece fascinated you the most? Let us know @TimesNow!
End of Article