From Peplums To Liquid Metallics, Here Are 15 Fashion Trends To Catch Up With In 2023
As 2023 comes to an end in just a few months, the fast-paced world of fashion waits for no one as it displays its magic throughout the year with a range of trends that come and go like a whirlwind. If you are a fashionista who wishes to stay on top of the game every single day, make sure to hop on to these 15 trends that define the world of fashion this year.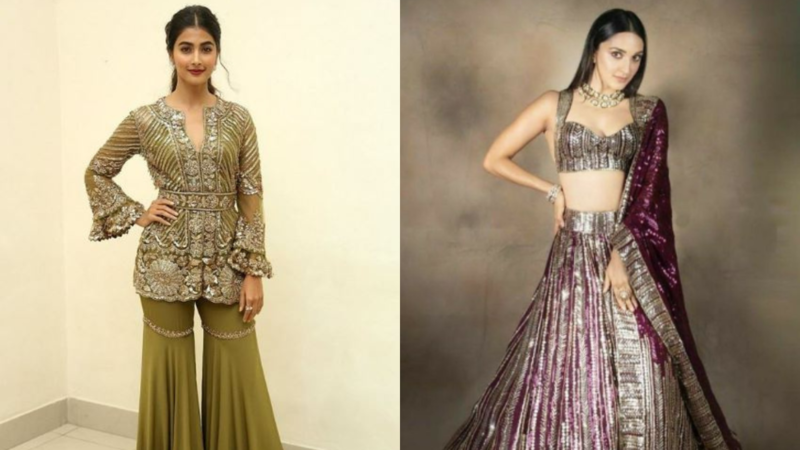 Take a look at some of the fashion trends that made waves in 2023. Pic Credit: Pinterest
2023 is on the verge of making a final showdown in just 3 months, but that does not stop
fashion
from spreading its glorious wings and showcasing its might on a global stage with its rapidly emerging trends. From fast and quiet fashion to keeping it sustainable, there is something for everyone in this dynamic world and it is up to us to jump into the speeding wagon or lose sight of it forever.
When it comes to fashion, we often look up to global brands and what they have to offer in order to emulate the trends in our day-to-day lives. Not just Hollywood, even Bollywood actresses manage to create waves on social media by sharing posts of them wearing unique prints and patterns to elevate their fashion game.
So, what better way to end 2023 fashionably than taking a look at B-town divas bringing their A-game when it comes to presenting some of the finest trends to grace this year? Here's looking at 15 such trends you should definitely know about to look fashionable round the clock.
1) Liquid Metallics Bold and always in trend, liquid metallics are making a splash in the world of fashion and Kiara Advani's molten metallic lehenga outfit designed by Manish Malhotra is all things elegant and sparkly.
2) Floral In Dark While florals in bright colours have always been a summer favourite, incorporating the same in darker shade have been making trends this year. There is something so mysteriously beautiful about this dress that makes Aditi Rao Hydari look gorgeous in this simple outfit.
3) Take A Bow There is nothing a pretty bow cannot fix and this picture is proof. Priyanka's simple yet sultry plunging neck black dress gets a major style upgrade, thanks to the multicoloured bow resembling a butterfly in the front.
4) Pretty In Peplums Peplums have been floating around for years, but once again found its spark in 2023. From peplum blouses, kurtas and dresses, Bollywood actresses including Pooja Hegde have joined in on the peplum trend to elevate their traditional outfit collection.
5) Ravishing In Red Monochrome outfits have always been in season but there is something magical about wearing an all-red ensemble that not only grabs heads but steals the spotlight as well.
6) Mini Bombs It's not just about wearing a mini dress, it's about the details that make a mini dress look equally gorgeous as a cocktail or majestic gown dress. Alia can be seen wearing a laced off-white mini dress but her embellished belt takes her outfit to a whole new level.
7) The Fringe Look Fringe dresses are not only fascinating to look at but also make you look trendy in any room. Kangana can be seen sporting a three-layer fringe dress with a tight updo bun that gives a casual yet stylish vibe.
8) Thigh-Slits 2023 is the era of thigh-slit dresses and while Janhvi Kapoor is capturing hearts left, right and centre with her bold avatar, these dresses with dangerous slits are one of the most sensual trends in the fashion industry.
9) The Denim Appeal Denim has been known to give a rugged look since decades, but with time, they have become more fashionable and denim ensembles are now a thing in 2023. Ananya here not only looks smart but incredibly sexy while wering this denim sleeveless crop top and wide hem jeans.
10) Cut-Out Dresses Make way for the sensual cut-outs! These dresses are bound to take anyone's breath away with their risque cuts and marks and with the bold looks they resent from time to time, these dresses are here to stay for a very long time.
11) Bold Animal Prints Animal prints have made an on-and-off appearance in the fashion industry but you cannot help but admit that they bring out the best in a woman wearing them with the utmost pride and confidence.
12) The Mermaidcore Mermaid-core dresses are a dream come true for any fashionista who has always aspired to look magical and majestic wherever they go. Resembling a fish, these dresses have a fishtail-like structure on the lower half of the dress which adds to the appeal.
13) Sheer Elegance Be it tops, kurtas, dresses or sarees, Bollywood actresses have always nailed the sheer trend over the years. Its transparent look adds to the bold look while keeping it elegant and stylish in its own way.
14) Puff Sleeves For The Win if you wish to add more flair and drama to your outfit, then puff sleeves are the way to go. Chitrangda Singh made her leather outfit look even more stylish by adding a touch of puff to her sleeves.
15) Oversized Blazers The last trend to feature in
2023 fashion trends
to follow is none other than oversized blazers. These are so versatile that they can transition from a formal to a street-style look effortlessly. Just swap your formal shirts and trousers with denim jeans and crop tops or t-shirts and you are good to go.
Which trend fascinated you the most? Let us know @TimesNow!
End of Article