Chhath Puja 2023: Know the Reason Behind Using Bamboo Soup in Chhath Puja To Receive The Blessings of the Fast
Chhath Puja is currently being celebrated around the country. Women in particular are seen fasting and worshipping the Sun God and Chhath Mata. During the worship women often use a bamboo soup to carry the worship material. Let us find out the importance and the belief behind using the bamboo soup while worshipping during Chhath Puja.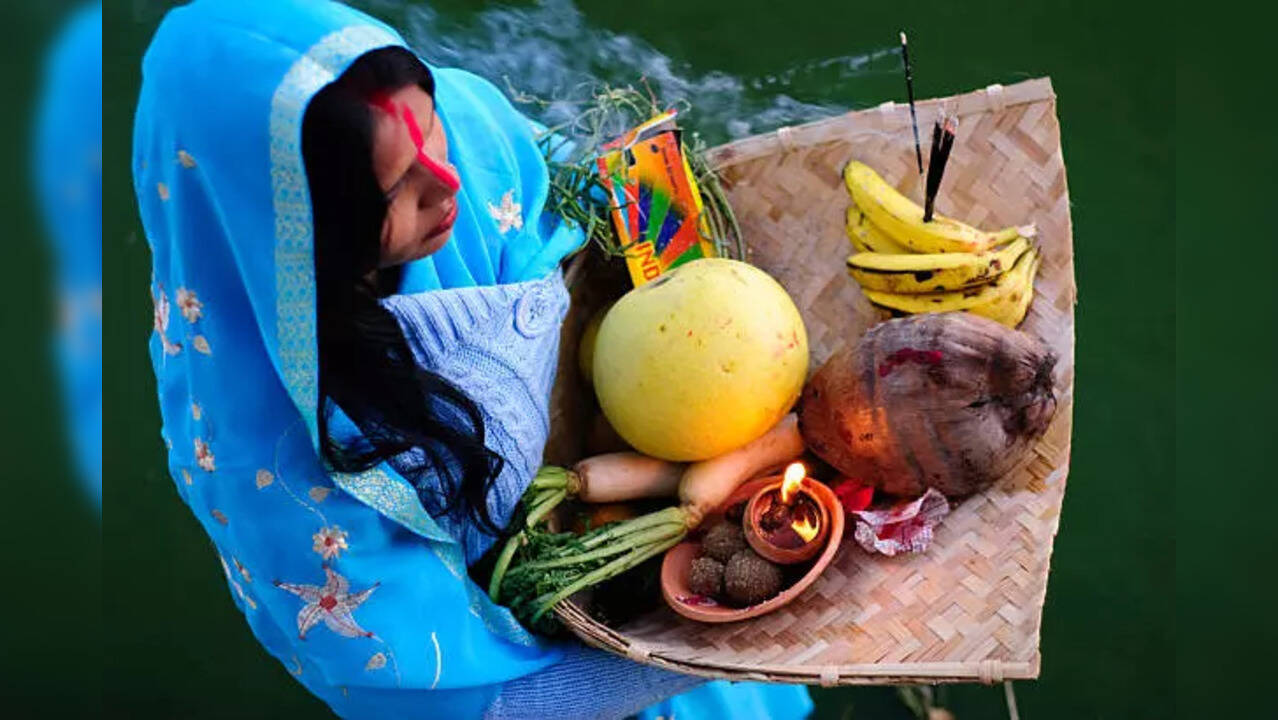 Why is a bamboo soup used during worship in Chhath Puja
Photo : iStock
Today is the third day of Chhath Puja celebrations. This festival is one of the biggest festivals in Hinduism and is popularly celebrated in the Indian states of Bihar, Jharkhand and eastern Uttar Pradesh. This holy festival lasts for four days and women observe Nirjala fast for a total period of 36 hours.
This holy festival of Chhath is mainly dedicated to Lord Surya Dev and Chhathi Maiya or Chhath Mata. Devotees use a bamboo soup while worshipping during Chhath Puja. Women observing the fast keep the puja items in that bamboo soup. But why do they use a bamboo soup for worship during Chhath Puja? Let us find out the reason behind it.
For offering arghya to Lord Surya and performing the puja of Chhathi Maiya, devotees use a special basket or soup made of bamboo. Before going to the ghats for worship, the basket is decorated and filled with all the necessary puja items. Let's find out how to decorate the basket, prepare the soup or dal, and what to include in it.
Essential Items for Decorating the Chhath Basket
Soup, daura, or dalia (made of bamboo or brass)
Coconut
Suthani (a type of thread)
Sweet potatoes
Honey container
Betel nut
Karva (a pot with a spout)
Amla (Indian gooseberry)
Big lemons
Daura (a banana-shaped ornament)
Red rice
Turmeric
Jaggery
Betel leaves
Fruits
Incense
Sugarcane
Flowers
Thekua (a sweet prepared during Chhath Puja)
Makeup items
Sindoor (vermilion)
Red or yellow cloth (to tie the soup)
How to Decorate the Chhath Puja Basket
First, one must clean and dry the soup or daura. Apply sindoor on both sides, and place betel leaves on each side of the soup. Keep all the fruits and offerings inside. Some people keep 5 or 11 offerings and fruits. Then, tie it securely with cloth. Ensure that jaggery is also placed in the soup which is considered very auspicious. Afterward, light incense on both sides of the soup. After burning the soup in this way, family members carry it on their heads to the ghats. A Chhath Puja song associated with carrying the daura to the ghat is sung during this process.
Belief related to bamboo soup in Chhath Puja
It is believed that Chhath Puja fast is observed with devotion by childless couples, so that they are blessed with child. This puja is especially done for the purpose of having a bright and intelligent child.
Since the bamboo shoot grows very rapidly to about 60 feet in just 8 weeks, along with its grass which grows by one meter a day, therefore using bamboo shoots during Chhath Puja it is believed that their children will also grow and make progress in their lives as rapidly as the bamboo shoots grow. Along with this, it is believed that by observing fast on Chhath Puja, the health of the children also remains good. Therefore, Chhath puja is considered incomplete without using the bamboo soup for worship.
End of Article