JioAirFiber Goes Live in 8 cities: All You Need to Know
Jio takes the digital revolution to new heights with the launch of JioAirFiber, offering an integrated solution for home entertainment, broadband, and smart home services.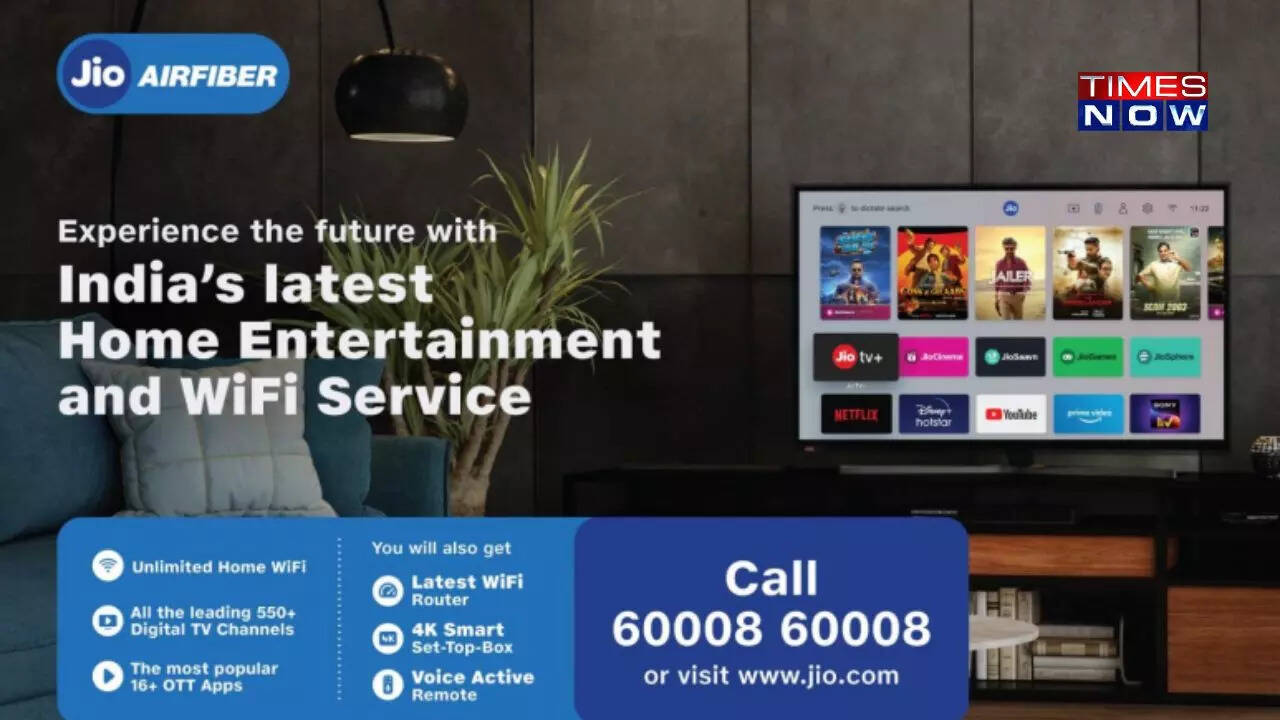 JioAirFiber: A Sigh of Relief for Last-Mile Connectivity Issues
KEY HIGHLIGHTS
JioAirFiber goes live in 8 major cities, aims to solve India's last-mile connectivity issue.
The all-in-one JioAirFiber package includes 550+ TV channels, high-speed WiFi, and smart home services.
JioAirFiber offers complimentary WiFi router, 4K Smart Set Top Box, and Voice-active remote.
In a landmark announcement that could very well redefine India's broadband landscape, Jio has unveiled its latest service, JioAirFiber. Launched in eight major cities including Delhi, Mumbai, and Bengaluru, Jio aims to tackle the long-standing issue of last-mile connectivity.
Unveiling on the Auspicious Occasion of
Ganesh Chaturthi
The service went live on the auspicious occasion of Ganesh Chaturthi, symbolizing new beginnings and prosperity. According to Akash Ambani, Chairman, Reliance Jio Infocomm Limited, "Our extensive fiber-to-the-home service JioFiber already serves over 10 million customers, with hundreds of thousands more getting connected each month. But there are still millions of homes and small businesses to be connected at a rapid pace. With JioAirFiber, we are expanding our addressable market to rapidly cover every home in our country with similar quality of service. JioAirFiber will enable millions of homes with world-class digital entertainment, smart home services and broadband, through its solutions across education, health, surveillance and smart home."
All-in-One Entertainment and Broadband Service
Digital Entertainment
550+ Digital TV Channels
Catch-up TV
16+ Popular OTT apps
Broadband Service
Smart Home Services
Cloud PC for Education and WFH
Security and Surveillance
Healthcare and Education services
Freebies: Who Doesn't Like Them?
To make the deal even sweeter, JioAirFiber is throwing in some home devices at no extra cost:
WiFi router for seamless coverage
4K Smart Set Top Box
Voice-active remote
Aiming for the Sky with JioAirFiber
While Jio's existing fiber-to-the-home service, JioFiber, serves over 10 million customers, the launch of JioAirFiber aims to extend the network's reach to the millions still without broadband. Given Jio's existing 1.5 million km optical fiber network, JioAirFiber is poised to be a game-changer.
End of Article