Ganesh Chaturthi: 4 Special Fast-Friendly Recipes for Devotees
This article offers four distinct, fast-friendly recipes that adhere to the fasting guidelines commonly followed during Ganesh Chaturthi. From the refreshing Sago and Coconut Pudding with a Cardamom-Saffron Drizzle to the aromatic Sweet Potato Halwa, each dish has been curated to offer both nutritional benefits and divine flavours.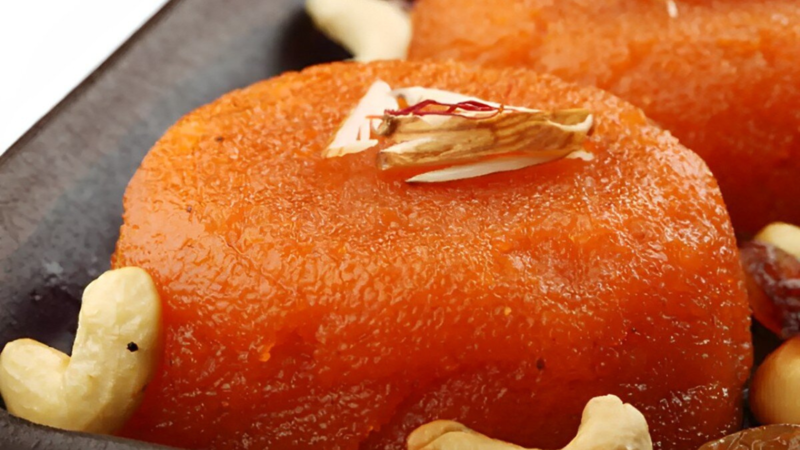 Ganesh Chaturthi: 4 Special Fast-Friendly Recipes for Devotees (Credit - Times Food)
Ganesh Chaturthi
is a festival that celebrates not only the divine but also the gastronomic! From modaks to puran polis, the culinary landscape is as rich and diverse as the traditions. But what if you're observing a fast during this auspicious occasion? Fret not, for we have a unique
recipe
that not only fits within the fasting guidelines but also adds a special touch to your festivities. Presenting the Sago and Coconut Pudding with a Cardamom-Saffron Drizzle—a dish that combines tradition, flavour, and the spirit of celebration in one heavenly spoonful.
Sago and Coconut Pudding with Cardamom-Saffron Drizzle Recipe
Ingredients
For the Pudding
1 cup sago pearls (sabudana)
2 cups coconut milk
1/2 cup grated coconut (optional)
1/2 cup sugar
1 teaspoon ghee
A pinch of salt
For the Cardamom-Saffron Drizzle
1/2 cup water
1/4 cup sugar
5-6 strands of saffron
3-4 cardamom pods, crushed
Instructions
1. Preparation: Soak the sago pearls in water for 4-5 hours or overnight. Drain off excess water.
2. Cook Sago: In a non-stick pan, heat a teaspoon of ghee and add the soaked sago. Stir for a minute on medium heat.
3. Add Coconut Milk: Pour in the coconut milk and bring the mixture to a simmer. Cook the sago until translucent, stirring occasionally.
4. Add Flavours: Add the grated coconut (if using), sugar, and a pinch of salt to the mixture. Mix well and cook until the pudding thickens. Remove from heat and set aside.
5. Make the Cardamom-Saffron Drizzle: In a saucepan, combine water, sugar, saffron, and crushed cardamom. Bring it to a boil and then simmer until it thickens into a syrupy consistency.
6. Assemble: Pour the cooked sago and coconut mixture into serving bowls or glasses. Allow it to cool down a bit before refrigerating for an hour.
7. Serve: Just before serving, drizzle the cardamom-saffron syrup over the pudding.
8. Garnish: Optional but you can add a mint leaf or a slice of lemon for visual appeal.
Coconut Rose Modak Recipe
Coconut Rose Modak combines the tropical richness of coconut with the subtle floral notes of rose. It's a perfect recipe for those who are looking for something more exotic yet within the parameters of tradition.
Ingredients
1 cup desiccated coconut
1/2 cup condensed milk
2 teaspoons rose water
1 teaspoon cardamom powder
A drop of pink food colouring (optional)
A handful of pistachios, finely chopped (for garnish)
Method
Step 1: Prepare the Coconut Mixture
Heat a non-stick pan on medium flame. Add desiccated coconut and roast it lightly for 1-2 minutes. Make sure not to brown it.
Step 2: Add Condensed Milk
Pour condensed milk into the pan and mix it thoroughly with the coconut. Keep stirring to avoid lumps and burning.
Step 3: Infuse with Rose
Add rose water and cardamom powder to the mixture. Blend well. If you're using food colouring, add a drop for that pinkish hue.
Step 4: Shape the Modaks
Once the mixture leaves the side of the pan, turn off the flame. Let it cool for a few minutes. Now shape them into Modaks using a mould or your hands.
Step 5: Garnish and Chill
Place a small piece of chopped pistachio on top of each Modak for garnish. Chill the Modaks in the refrigerator for at least an hour before offering them to Lord Ganesha.
Coconut and Fruit Kheer Recipe
This unique dish is both sumptuous and in accordance with fasting guidelines, offering a heavenly treat to break your fast with.
Ingredients
1 cup coconut milk
2 cups water
1/2 cup mixed fruits (banana, apple, and pomegranate)
1/4 cup rock sugar (Mishri)
A pinch of cardamom powder
2 tablespoons ghee
10-12 cashews
Procedure
1. Begin by peeling and dicing the fruits into small pieces.
2. In a heavy-bottomed pan, heat the ghee and lightly fry the cashews until they turn golden brown. Remove and set aside.
3. In the same pan, add the coconut milk and water. Bring it to a simmer.
4. Add the rock sugar and stir until fully dissolved.
5. Now add the diced fruits and let them cook in the simmering coconut milk mixture for 5-7 minutes.
6. Sprinkle a pinch of cardamom powder and add the fried cashews.
7. Cook for another 2-3 minutes and turn off the heat.
Sweet Potato Halwa Recipe
A warm, fragrant dish rich in flavours and nutrients, this halwa is perfect for anyone observing a fast during the festival.
Ingredients
2 large sweet potatoes, peeled and grated
1 cup almonds, soaked overnight and peeled
1 cup milk (or almond milk for a dairy-free version)
1/2 cup pure ghee
1/2 cup rock sugar (mishri)
1/2 teaspoon cardamom powder
A pinch of saffron strands (optional)
Procedure
1. Preparation of Almond Paste
After soaking the almonds overnight, peel them and make a fine paste using a little water.
2. Sweet Potato Grating
Peel and grate the sweet potatoes and keep them aside.
3. Cooking the Sweet Potatoes
In a heavy-bottomed pan, heat the ghee on medium heat. Once it melts, add the grated sweet potatoes. Cook until they soften, which usually takes around 10-15 minutes. Keep stirring to prevent sticking.
4. Adding Almond Paste
Once the sweet potatoes have softened, add the almond paste to the pan and mix well. Cook for another 5 minutes, stirring frequently.
5. Sweetening and Flavouring
Add the rock sugar to the mixture and mix well until it dissolves. Follow this by adding the milk (or almond milk) and stirring continuously to prevent lumps.
6. Finishing Touches
Add cardamom powder and a pinch of saffron strands for an aromatic experience. Stir and cook for another 2-3 minutes until the halwa reaches your desired consistency.
7. Garnish and Serve
Garnish with a few saffron strands or almond slivers before serving.
Ganesh Chaturthi is not just a festival; it's an experience that brings together devotion, community, and culinary delights. Fasting during this auspicious period need not mean deprivation or settling for the mundane. As our unique and fast-friendly
recipes
demonstrate, you can indeed uphold the sanctity of the festival while also indulging in a gastronomic adventure.
From the luxuriously layered flavours of Sago and Coconut Pudding with Cardamom-Saffron Drizzle to the comforting warmth of Sweet Potato Halwa, each dish adds its own distinctive touch to your festive celebrations. These recipes offer not just a feast for the palate but also nourishment for the soul—a perfect blend of tradition and innovation, designed for those observing fasts during Ganesh Chaturthi.
As you immerse in the divine chants and colourful rituals, may your fasting experience be equally enriching and delicious. Here's wishing you a Ganesh Chaturthi that's filled with spiritual fulfilment and culinary joys. Happy fasting and feasting!
End of Article