10 Best Ganpati Decoration Ideas At Home
Ganesh Chaturthi, also known as Vinayak Chaturthi, falls on September 19th, this year. The festival lasts 10 days, with the last day falling on September 28, 2023 (Thursday). Here is a list of the greatest Ganpati decoration ideas to help you greet the most-awaited guest in spectacular style. Read on!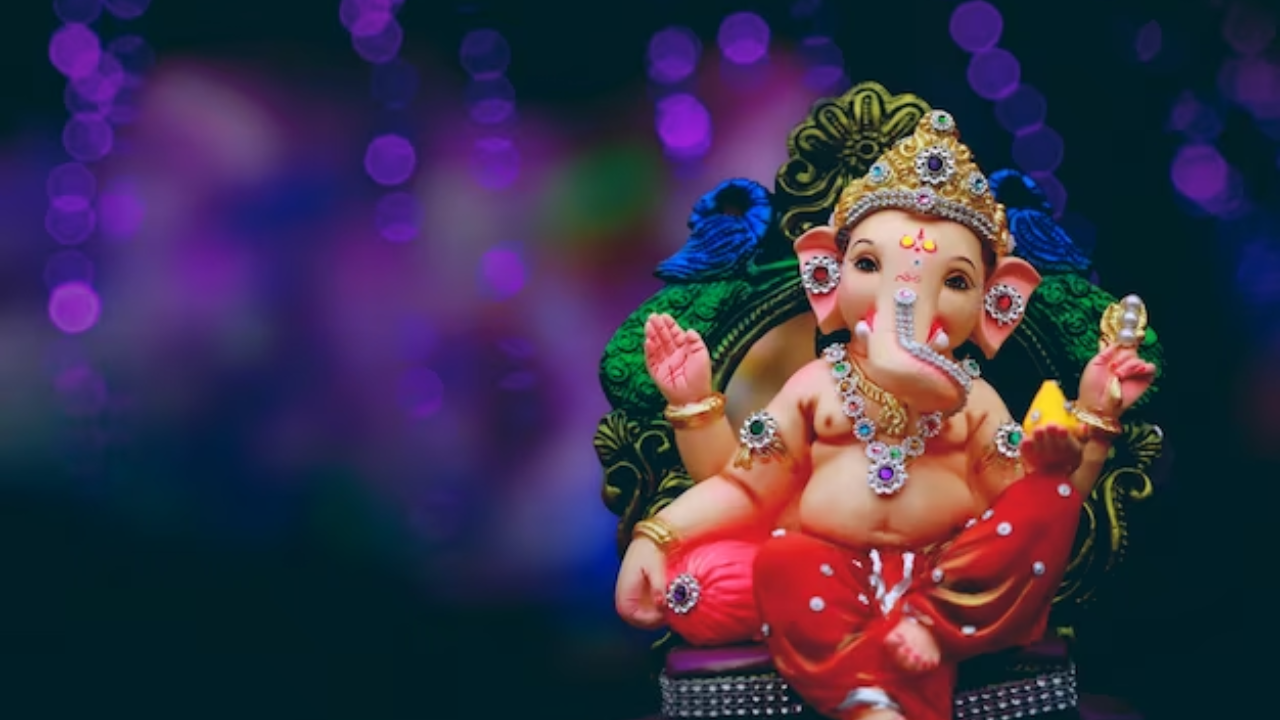 Ganesh Chaturthi Decorations at Home (Image Credit: Freepik)
Ganesha Chaturthi is one of the widely celebrated festivals in India that marks the beginning of the 10-day long Ganpati Festival, also known as 'Vinayak Chaturthi'. The event is widely celebrated particularly in Maharashtra, Gujarat, and Karnataka. Beautiful handcrafted Ganpatis and Ganpati decorations can be seen around the country. After all, the event commemorates the birth of Lord Ganesha, the embodiment of knowledge and wealth.
While there are enormous Ganpati pandals with magnificent Lord Ganesha statues, Ganesh Chaturthi décor at home might be difficult. As a result, we came up with a list of the greatest Ganpati decoration ideas to help you greet the most-awaited guest in spectacular style.
1. Easy Ganpati Flower Decoration:
Beautiful flowers make every event or pooja complete, and the more there are, the colourful and brighter the celebration! Decorating with flowers is the most popular décor concept for every event. Flowers can improve any setting, and this natural touch may take your Ganpati house decorating to the next level.
Flowers represent cheerfulness and purity, making them an ideal setting for Ganpati Chaturthi decorating.
The appropriate hues, setting up, and flowers may all play an important role in creating a stunning Ganpati mandap display at home that looks joyful and bright.
2. Drapes & Dupattas for Ganesh Chaturthi Decoration:
Most households have dupattas, which come in a variety of wonderful fabrics. Some are blingy, some are pastels, while yet others are vivid and excellent for a festive feel. One of the most spectacular Ganpati decoration ideas is to use lovely dupattas in vibrant colours. Tie them together to make a lovely hanging Ganpati decoration for your home.
3. Idea for Ganpati Decoration Using Sparkling String Lights:
One of the Ganpati decoration ideas that never fails is to hang shimmering lights in the background of the Ganpati mandap. It adds to the enchantment of the Ganpati decoration. You may also overlay the lights to create a falling effect over the Ganesh statue. Alternatively, you can just stack them and hang them over the walls to illuminate the entire pandal arrangement. With just a few lights, you can quickly improve the look of your Ganpati arrangement at home.
4. Eco-Friendly Ganpati Decoration Idea:
Ganpati decorating at home using green plants, flowers, and other DIY Ganpati decoration ideas may improve the overall look of the décor while also helping to conserve the environment. Paper fans are another popular Ganesh Chaturthi décor option for 2023. Paper fans are simple to put together and you can experiment with different colours and sizes. These paper fans would provide an excellent backdrop for your Ganesh Chaturthi decorating at home in 2023. You may illuminate up the paper fans by pasting mirrors or using sparkly colours.
5. DIY Ganpati Decoration Idea Using Bright Papers:
Simply choose fluorescent papers or glitter sheets in various colours to make decorations such as flowers, paper fans, garlands, wall hangings, and so on. You may use the paper flowers to decorate both sides of the Ganesha idol, or you can build a large paper fan to use as a backdrop for your idol. Make some basic patterns, such as butterflies and umbrellas, and stick them on a blank wall. This DIY work is also a excellent way to engage and bond with your children.
6. DIY Ganpati Decorations Using Balloons:
When it comes to celebration and excitement, no event is complete without balloons. Our list would also be incomplete if we missed out on balloon Ganpati decoration ideas. A basic yet imaginative balloon theme may make for an outstanding house décor. You may create a circle balloon background or cover a whole wall with balloons to serve as a backdrop for the Ganpati idol. The Ganpati mandap balloon decorating will undoubtedly improve the overall appearance of the venue.
7. Candles and Diyas for Ganesh Chaturthi Decoration:
Using a lot of candles as well as diyas is one of the simplest methods to adorn your Ganpati Home Mandap. To give the idol an enticing appearance, arrange bright candles and adorned diyas around it. You may also put some floating candles in a bowl of water to add to the décor.
8. Vinayak Chaturthi Decoration Idea Based on Theme:
Now that themes are popular for almost every event and occasion, why not choose a theme for your Ganpati décor at home? The majority of pandals also use themes. You might pick a 'eco-friendly' theme or a colour theme for your Ganpati mandap and prepare appropriately. So, after you've decided on a theme, you may decorate not just your mandap but also the rest of your home.
9. Pre-Made Ganpati Home Mandap:
You may get small ready-made mandaps or Ganpati pandals in a variety of forms. The nicest aspect about these ready-made Ganpati mandaps is that they are generally built of thermocol sheets and flowers.
They are extremely simple to install and require little to no maintenance. These mandaps are exquisitely designed and serve as a stunning backdrop for the Lord Ganesha statue. You may dress up the idol with additional decorations such as string lights, spotlights, and beautiful lanterns.
10. Decorations for Ganesh Chaturthi with a Coconut Theme
Keeping Ganesha in a coconut shell has been popular for many years, as seen at various large Ganesha Chaturthi pandals and festivals. Bring the same charm to your Ganesh Chaturthi puja setting by creating a coconut shell to house Lord Ganesha's idol within. Design the shell in the shape of a modak because the Lord was a big fan of it and everyone knows it.
End of Article