Ganesh Chaturthi 2023: Only 2 Shubh Mahurats for Ganpati Sthapana, Ganesha be Seated in 4 Auspicious Yogs
Today Ganesh Chaturthi festivities are starting and will continue for the next 10 days. The first day today is marked by the installing of the idol of Lord Ganesh either in public pandals of in private homes. There is an auspicious time to install Lord Ganesha's idol. Let us find out the exact time when one can install Lord Ganesh's idol in their homes or in their offices so as to get the blessings of Ganpati.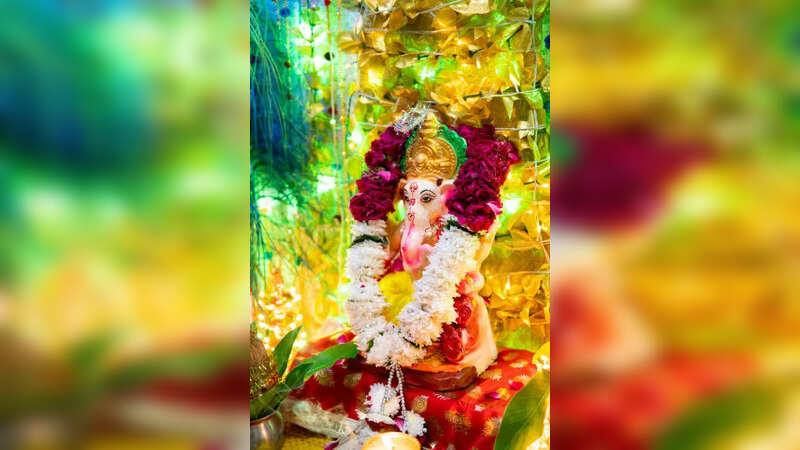 What is the shubh mahurat to install Lord Ganesh today
Photo : iStock
Today is the beginning of
Ganesh Chaturthi
festival. Today is the day when devotees with install the idol of Lord Ganesha either in public pandals or in their private homes.
However, one needs to know the auspicious time to establish
Ganpati
Bappa and today there are only two Shubh Mahurats for installing Lord Ganesha. According to the Mahurta, Ganesh
Sthapana
can be done only till 2 pm, but if for some reason one is not able to do it by that time, then you can do the Sthapana in any auspicious Choghadiya after that. However, the best time to install Ganpati is in the afternoon because the scriptures also say that Lord Ganapati was born in the afternoon.
From today, Mangalmurti Ganesh will sit for the next 10 days and then he will bid farewell on Anant Chaturdashi. It is believed that if for some reason you cannot perform Ganpati puja for all the 10 days, then you can do immersion on the third, fifth or seventh day of the installation of Ganpati.
Accordingly, if one is installing Ganesh ji in their homes then the auspicious time will be between 9:30 AM to 11 AM and then again between 11:30 AM to 2 PM.
If one is installing Ganpati in their offices or factories then the
shubh mahurat
is falling between, 10 AM to 11:25 AM and then again between 12 noon to 1:20 PM.
Ganesh Chaturthi 2023 begins in auspicious coincidence
Tirupati's Astrologer Dr. Krishna Kumar Bhargava says that this year on the day of Ganesh Chaturthi, there is an auspicious combination of Ravi Yoga and
Swati Nakshatra
. Auspicious results of worship or other auspicious activities are obtained in Ravi Yoga and Swati Nakshatra.
Ravi Yoga: Today, 06:08 am to 01:48 pm
Swati Nakshatra: Today, from morning till 01:48 pm, from then onwards Vishakha Nakshatra.
What is the puja muhurat of Ganesh Chaturthi 2023?
Bhadrapada Shukla Chaturthi Tithi starts on 18th September at 12:39 pm.
End of Bhadrapada Shukla Chaturthi Tithi: Today, at 01:43 PM.
Auspicious time for Ganesh Chaturthi Puja: Today, from 11:01 am to 01:28 pm.
Ganesh Chaturthi worship is always done in the afternoon. This year devotees have 02 hours 27 minutes for worshipping for Ganesh Chaturthi. Those who for some reason cannot worship Ganesh Chaturthi in an auspicious time, can worship Ganesh Chaturthi in other puja mahurat.
What are the morning, afternoon and evening mahurats for puja for Ganesh Chaturthi 2023?
Morning puja time: 09:11 am to 10:43 am
Morning-Afternoon Puja Timings: 10:43 AM to 12:15 PM, 12:15 PM to 01:47 PM. In this, the first is Labh-Unnati Muhurta and the second is Amrit-Savottam Muhurta.
Abhijit Muhurta of Ganesh Chaturthi: 11:50 AM to 12:39 PM
Timings of Evening Puja: 03:18 PM to 04:50 PM, 07:50 PM to 09:18 PM
This time there is a coincidence of Ganesh Sthapana falling on a Tuesday. Scholars say that worshiping the Vighneshwar form of Ganapati in this yoga gives one the desired results. On the establishment of Ganesh, Rajyoga named Shash, Gajakesari, Amala and Parakram together are forming Chaturmahayoga.
Just as it was at the time of Ganesh's birth in Yoga Satyayuga, it is the same even today.
According to the Puranas, Lord Ganesha was born on the Chaturthi of Bhadau in the second quarter of the day. That day was Swati Nakshatra and Abhijeet Muhurta. A similar coincidence is happening today. In the coincidence of these dates, times and constellations, in the afternoon when the Sun is directly above the head, Goddess Parvati made the idol of Ganapati and Lord Shiva sacrificed his life in it.
What to do if you are not able to install and worship Ganesha?
Chanting the mantra "Om Gan Ganpatayai Namah every day during the entire Ganeshotsav will also bring you virtue. Only after taking a bath in the morning, and reciting the mantra of Lord Ganesha and paying obeisance, one should leave for office, shop or any other work.
End of Article